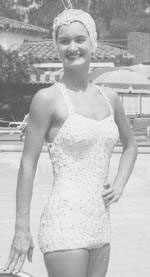 June Taylor (CAN)
Honor Pioneer Synchronized / Artistic Swimmer (1991)
The information on this page was written the year of their induction.
FOR THE RECORD: CANADIAN NATIONAL TITLES: 4 (duet & solo); AMERICAN NATIONAL TITLES: 5 (solo); INTERNATIONAL TITLES: 2 (solo); First Synchronized Swimming Champion of the United States.
It goes against logic, but June Taylor of Canada was the first synchronized swimming champion of the United States. When synchronized swimming was in its infancy, June Taylor was already winning Canadian and American synchro titles, touring, lecturing and serving to devise and revise competition rules.
From 1947-1951, while at the University of Western Ontario, June competed on both the swimming and the synchronized swimming teams where she won all the intercollegiate solos and, with her sister Gale, all the duet competitions.
At a time when music was just becoming a part of swimming routines, June was winning every U.S. National solo Indoor Championship as well as every Canadian and International solo and duet championship in which she competed.
Aside from trips with the swim team, June and coach Billie MacKeller traveled extensively across North America conducting clinics and demonstrations culminating with a synchronized swimming demonstration at the 1951 Pan American Games in Buenos Aires, Argentina. June and Billie's trips helped lay the groundwork for fellow athletes Peg Seller and Beulah Gundling to repeat synchro demonstrations at the 1952 Olympics in Helsinki.
After graduating from college in 1952, June and Billie traveled throughout the United States promoting synchronized swimming. From the Hollywood Athletic Club in Los Angeles to the Hollywood Women's Aquatic Forum in Florida, they toured the country. Spending many months in Mexico City helping the Mexicans with synchro, June again participated in the synchronized swimming exhibition at the 1955 Pan American Games in Mexico City.
Before her retirement in 1955, June turned professional and performed in Aqua Follies and Fairs in Minneapolis, Seattle, Los Angeles, Palm Springs, Las Vegas, Chicago New York and British Columbia.
June's love for the sport and for mankind spilled over in her desire to add new dimensions to swimming for the handicapped and new horizons in water therapy.