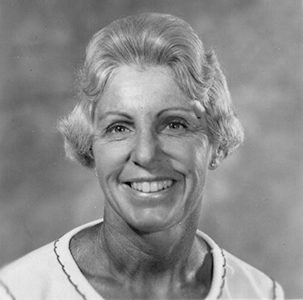 June Krauser (USA)
Honor Contributor (1994)
The information on this page was written the year of their induction.
FOR THE RECORD: INFLUENTIAL IN ESTABLISHING THE MASTERS SWIMMING PROGRAM (1972); WROTE THE FIRST RULE BOOK FOR MASTERS SWIMMING; ONE U.S. NATIONAL CHAMPIONSHIP (1943, BREASTSTROKE); U.S. REPRESENTATIVE TO FINA MASTERS SWIMMING COMMITTEE; WORLD MASTERS SWIMMING CHAMPION; EDITOR OF SWIM MASTER, MASTERS FIRST NEWSLETTER.
June Krauser learned to swim in Lake Michigan at age four and has made a splash ever since. First coached by Hall of Famer Dick Papenguth at the Indianapolis Athletic Club, June went on to swim for Bud Sawin at the Riviera Club as a member of the three time winning senior national team in 1941, 42 and 43. At age 16, June won a national championship in the 220 yard breaststroke. She and her sister Joan, the famed Fogel sisters, won nationals on the same day. A graduate of Purdue, June swam for Pappy's famed Lafayette Swim Club for two years and then retired from workouts for close to 30 years.
She may have left the water, but certainly not the sport. June switched from swim suit (silk and sheer black back then) to business suit. Moving to Florida with her husband Jack in 1955, June got her feet wet as an age group mother when daughter Janice turned five and swam in her first AAU meet. Son Larry followed and later became a Purdue captain. June became an official, and after helping to formulate the Florida Gold Coast Swimming Committee, she was elected secretary/treasurer, a post she held for nine years. June's administrative and organizational skills were immediately acclaimed, and she moved quickly to the national level. In 1959, June was named delegate for the AAU Convention and has represented South Florida every year since in AAU, USS or USAS.
In 1964, June was named as a member of the U.S. Olympic Women's Swim Committee and in 1968 took on the unpopular but necessary role of reorganizing and enforcing the rule book as the Swimming Rules Chairman. She also served as manager on six international AAU trips.
Twenty-five years after her "retirement" from active senior competition, June got back into the pool as a Masters swimmer – a concept and program she helped to pioneer in 1971. Krauser was the first and only rules chairman for United States Masters Swimming, and the founder/editor of their first national newsletter, Swim Master, for its 20 years. For her untiring devotion to the sport, June was named the second recipient of the Capt. Ransom J. Arthur Award, and the first USMS rule book was dedicated in her name.
In addition, June served as president of AAU Masters, was five-time national meet director and most recently was named to her second consecutive four-year term on the FINA Masters Swimming Committee. June Krauser has swimming friends around the globe from her many travels as team manager, committee representative and competitor. As her friends have said, "Mother Masters is one of the most dedicated people we know. If you need something done right, you call June Krauser."
June has never missed a USMS national competition-44 in all. Overall, she has won 65 short course and 71 long course championship titles. She has competed in four World Championships and touts 11 titles and five Masters world records. A Hall of Fame Dame President, long time International Congress member and College Coaches Swim Forum member since 1955, you can find June looking young, tan and physically fit swimming her 2 1/2 miles at the Hall of Fame pool seven days a week. "Mother Masters" is truly a tribute to our sport as a competitor, administrator and pioneer.