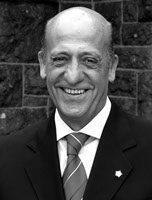 Dr. Julio Maglione (URU)
Honor Contributor (2012)
The information on this page was written the year of their induction.
FOR THE RECORD: INTERNATIONAL OLYMPIC COMMITTEE BOARD MEMBER: 1996-present; FINA PRESIDENT: 2009 – present; FINA HONORARY TREASURER: 1992–2009; FINA HONORARY VICE-PRESIDENT: 1988-1992; FINA BUREAU MEMBER: 1984–1988; PRESIDENT UNION AMERICANA DE NATACION (UANA): 1979-1983, 1995-1999; PRESIDENT OF THE SOUTH AMERICAN SWIMMING CONFEDERATION: 1976-1978; HONORARY PRESIDENT OF THE SOUTH AMERICAN SWIMMING CONFEDERATION: 1984; PRESIDENT OF THE URUGUAYAN SWIMMING FEDERATION: 1969-1985.
Dr. Julio Maglione was born in 1935, in Montevideo, Uruguay. After learning to swim, he soon became Uruguay's National Champion and record holder in the 100 meter and 200 meter butterfly/breaststroke from 1949 to 1954. He was a participant in Porto Alegre, Brazil's first University Games and a bronze medalist in 200 meter breaststroke and 100 meter butterfly with a silver medal in the 4 x 100 meter medley relay at the Latin American Games in Havana. He was a participant in the 1955 Pan American Games in Mexico City and was the South American record holder in the 4×100 meter medley.
In 1955, Julio then turned his attention to giving back to the sport he loved. As an administrator, he served as President of the Uruguayan Swimming Federation from 1969 to 1985, President of the South American Swimming Confederation from 1976 to 1978 and was elected Honor President of the Confederation in 1984. He was President of the Amateur Swimming Union of the Americas from 1979 to 1983 and from 1995 to 1999.
In 1984, Maglione was elected to the FINA Bureau and served as Bureau Member until 1988, when he was elected vice president. In 1992, he was elected Treasurer of the Bureau and served in that office for 16 years. In 2009, he was elected President of FINA at the FINA Congress and World Championships in Rome.
Among the many awards he received are the FINA Gold Pin; ANOC Order of Merit (1994); International Olympic Committee Centennial Trophy (1994); National Olympic Committee Gold Insignia; Royal Order of Merit in Sport of the Spanish Minister of Education and Science (1996); Legion of Honour of the French Republic (1998); Order of the Chinese Olympic Committee (1999); Order "Bernardo O'Higgins", Chili (2000); Distinction of the International Pierre de Coubertin Committee (2002) and Honorary Citizen of Montevideo (2007).
Since 1996, Julio has served as a member of the International Olympic Committee. Dr. Maglione is married, has two children and is a forensic dentist by profession.