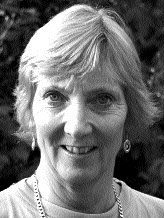 Judy Wilson (GBR)
Honor Masters Swimmer (2007)
The information on this page was written the year of their induction.
INTERNATIONAL HIGHLIGHTS: World Points – 858, Pre-1986 Points – 0. Total Points – 858; Since 1987, she has competed in 5 age groups (40-44 thru 60-64). 35 FINA MASTERS WORLD RECORDS;
At the age of 13 she joined Beckenham Ladies Swim Club. She soon became a world class athlete representing England at the Commonwealth Games of 1962 and 1966 where she won the gold medal in the medley relay. She even participated in the 1964 Tokyo Olympic Games.
Professionalizing herself by becoming a teacher, the amateur sporting rules forced her to retire fromthe pool. When her two children left home, she and her husband Andy found themselves bored and in the throes of "empty nest syndrome". Together, they decided to join Masters swimming for sport and a social life.
Judy Wilson enjoys swimming for personal satisfaction, and it suits her just fine! As a member of Britain's premier swim club, FHM, she creates waves by smashing records in each age group she enters. Since 1987 she has been in the Top Ten setting records in the butterfly and freestyle both long and short course.
Today, Judy shares her expertise and knowledge of the sport as a Swimming Development Officer for the Solihull Council.