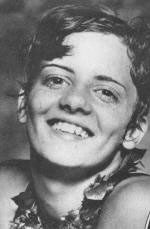 Josephine McKim (USA)
Honor Pioneer Swimmer (1991)
The information on this page was written the year of their induction.
FOR THE RECORD: OLYMPIC GAMES: 1928 bronze (400m freestyle); 1932 gold (relay); WORLD RECORDS: 6 (800m, 300yd, 440yd, 880yd, 1mile freestyle; 1 relay); AAU NATIONAL CHAMPIONSHIPS: 6 (440yd, 880yd, 1 mile freestyle; 2 relays); AMERICAN RECORDS: 11 (400m, 440yd, 800m, 880yd, 1 mile freestyle; 6 relays).
Born on January 4, 1910, in Oil City Pennsylvania, Josephine McKim swam her way to two Olympic teams and two Olympic medals. As a member of the 1928 United States Olympic team, Josephine finished third, behind Hall of Famers Martha Norelius (USA) and Marie Braun (HOL) in the 400 meter freestyle.
Josephine returned four years later, at the Los Angeles Olympics in 1932, as a member of the gold-medal-winning 400 meter freestyle relay team.
During her swimming career, McKim set five world records in the 800 meter, 440 yard, 880 yard , and 1500 meter freestyle. She also held a record as a member of the 400 meter freestyle relay. Between 1928 and 1932, Josephine set five individual American records and five American relay records.