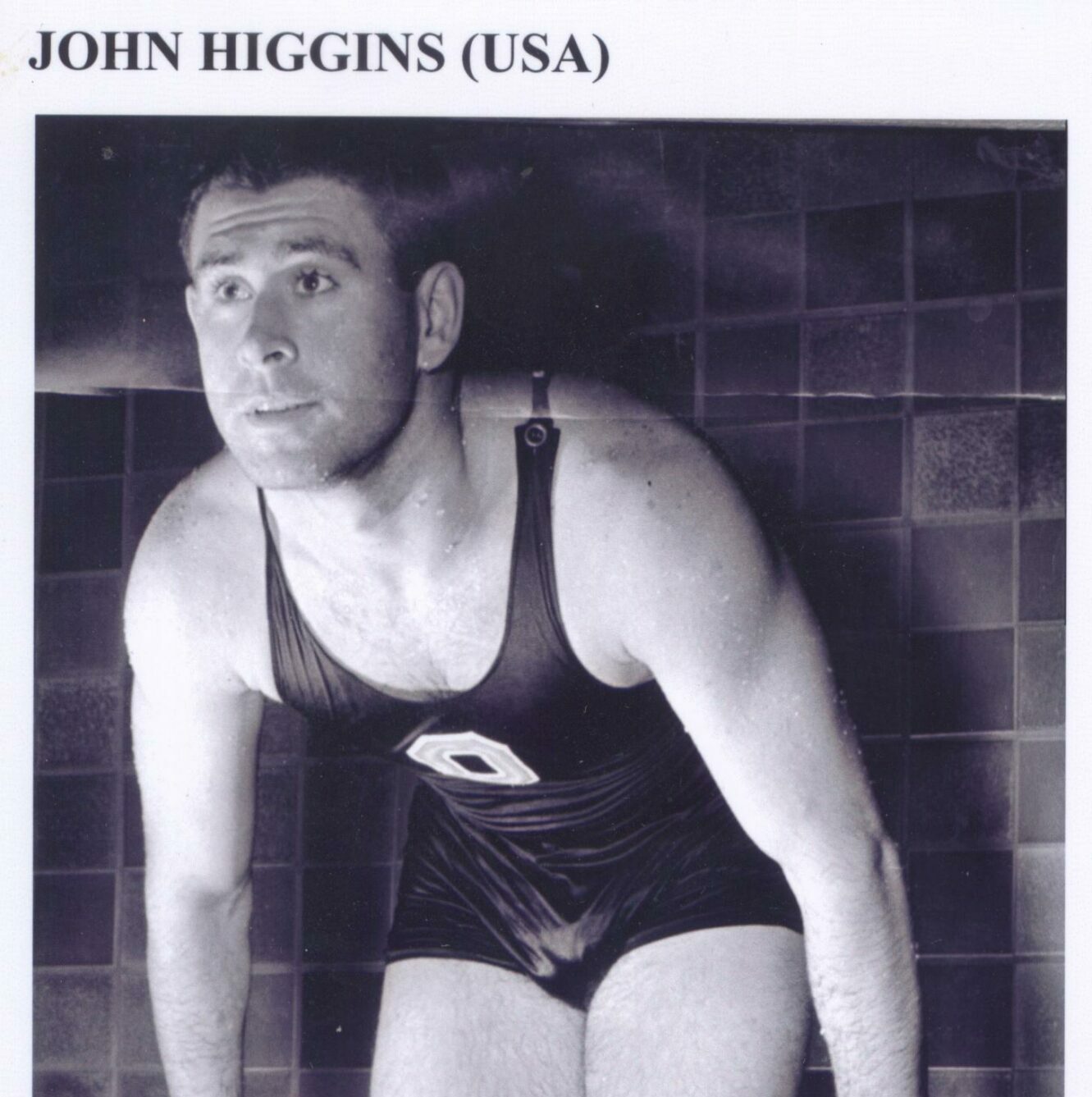 John Higgins (USA)
Honor Swimmer (1971)
The information on this page was written the year of their induction.
FOR THE RECORD: OLYMPIC GAMES: 1936 4th (100m breaststroke (with butterfly stroke)); WORLD RECORDS and AMERICAN RECORDS: 100m, 200m butterfly-breaststroke (first to set World Record for breaststroke using the butterfly arm stroke); individual medley; medley relay; U.S. NATIONAL CHAMPIONSHIPS: 11 (butterfly-breaststroke, individual medley, medley relay).
1971 could be called the year of the butterfly, judging from the International Swimming Hall of Fame's honoree selection, with 3 swimmers . . . John Higgins, Bill Yorzyk and Mike Troy . . . all inducted as pioneers in the evolution of the butterfly stroke.
The first of these was John Higgins who was the first swimmer to set a World breaststroke record going all the way with the butterfly arm stroke. Higgins went 1:10.8 for the 100 meter breaststroke at New Haven, Conn. on the 22nd of February 1936. He lowered it to 1:10 flat on March 3rd as the only man to break the record in that first year that the overwater butterfly arm stroke was practiced as an option on the traditional underwater breaststroke arm action.
The traditional "frog" kick was required by the rules in both until after the 1952 Olympics when Iowa's coach Dave Ambruster succeeded in getting his pet butterfly with the dolphin kick legalized.
In the 1936 Olympic Trials, Higgins established a new American and World Record of 2:44.1 for the 200 meter fly. This record was standing for 12 years. His long career started with the YMCA and Olnyville (R.I.) Boys Club and wound up with the U.S. Navy after 4 record-shattering years at Ohio State. During this period he won 11 Nationals while also setting World and American records in the Individual Medley and Medley Relays as well as in the butterfly breaststroke. He continued his swimming while in the Navy and competed for 21 years overall. After retiring as a swimmer, John Higgins stayed in his sport as the long-time swimming coach of the U.S. Naval Academy. He is a Past President of both the College Swim Coaches Association and the International Swimming Hall of Fame.