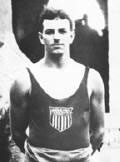 John Faricy (USA)
Honor Pioneer Swimmer (1990)
The information on this page was written the year of their induction.
FOR THE RECORD: WORLD RECORDS: 4 (50yd, 100yd breaststroke); NCAA CHAMPIONSHIPS: 3 (200yd breaststroke); AAU NATIONALS: 1 (220yd breaststroke); Member of 1924 Olympic Team couldn't compete due to broken ankle.
John Faricy was the victim of one of those touches of irony that swimmers dream about in their nightmares. He jumped off a slow moving train in route to the 1924 Paris Olympics and broke his ankle and couldn't swim. Johnny Weissmuller and Stubby Kruger jumped off with him to get some French bread from a pretty girl vendor but they didn't get hurt. Faricy watched as Bob Skelton, an Illinois Athletic Club teammate he had beaten consistently the year leading up to the Olympics, won the gold medal. All his life, John Faricy became ill at the very sight of French bread. But John Faricy doesn't make the Hall of Fame on what he didn't do. His record as the world's best breaststroker of his time began with a world record 100 yard breaststroke as a Minnesota University sophomore in 1922. He won both the Big Ten and Intercollegiate breaststroke Championships. He repeated all these (world record, Big Ten and Intercollegiate) in 1923 and held his world record until 1926, one year after the Olympics. In 1924, John decided to take a year off of school and train with Bill Bachrach, the Olympic coach at the IAC. He won the Olympic trials, including the 200 meter Olympic distance, breaststroke Championship. In 1926 he returned to his coach Nels Thorpe, and was captain of the University of Minnesota his senior year. Again he was the undefeated Big Ten and Collegiate Champion setting another world record. He graduated and retired to become coach of the University of Havana team in Cuba after getting his Masters in social work from Pittsburgh. After taking his Cuban team to the Central American Games in Mexico City, (1926) he became Managing Editor of the Jam Handy Corporation in Detroit.