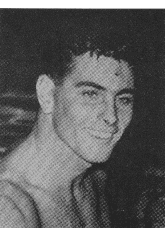 John Devitt (AUS)
Honor Swimmer (1979)
The information on this page was written the year of their induction.
FOR THE RECORD: OLYMPIC GAMES: 1956 gold (freestyle relay), silver (100m freestyle); 1960 gold (100m freestyle), bronze (freestyle relay); WORLD RECORDS: 14 (100m, 110yd freestyle; 400m, 400yd medley relays; 400, 440yd, 800m, 880yd freestyle relays; AUSTRALIAN CHAMPIONSHIPS: 5; COMMONWEALTH CHAMPIONSHIPS: 3; JAPANESE CHAMPIONSHIPS: 1.
John Devitt was a blast-off freestyle sprinter who would have been an absolute terror as a 50 and 100 yard short course swimmer, but unfortunately, his Australian countrymen, unlike the United States, don't compete in those sprint distances. He is best known for his split decision win the 100m freestyle over Lance Larson at the 1960 Rome Olympics. He won a total of 4 medals as captain of the Australian Olympic Team in both 1956 and 1960. The popular Devitt was 7 times team captain in international competition with his Australian Team winning the Olympic swimming at Melbourne in 1956, the Commonwealth Games in Cardiff, Wales, plus triumphant tours of Japan, S.E. Asia, South Africa, the Philippines, and Europe. Devitt has been in swimming since he was 4. Taking his last shower as a competitor in 1960, he's been moving up through the Speedo organization as editor of the "International Swimmer" and as British, European, Canadian, and international group manager of the Australian Swim suit company.