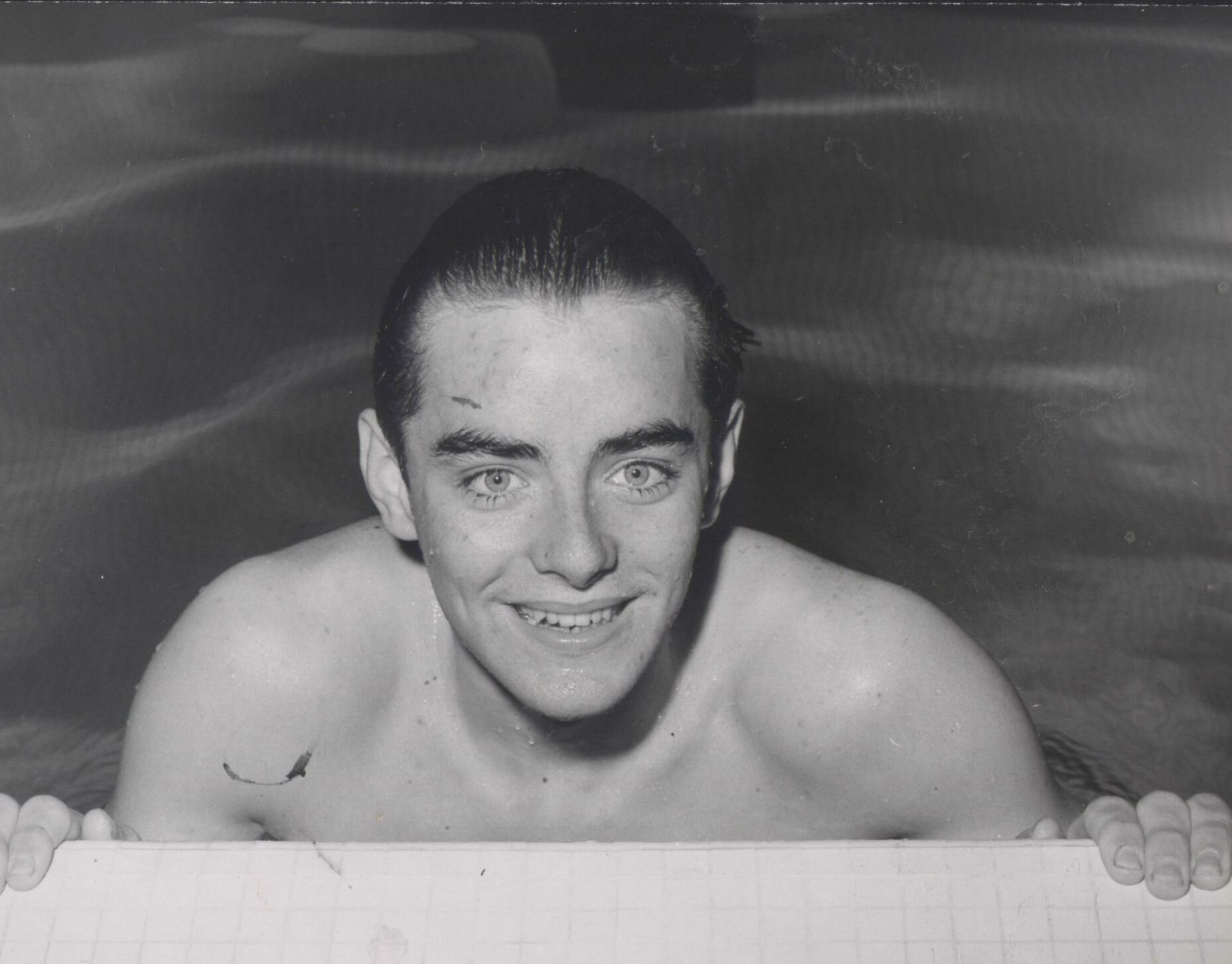 Jimmy McLane (USA)
Honor Swimmer (1970)
The information on this page was written the year of their induction.
FOR THE RECORD: OLYMPIC GAMES: 1948 gold (1500m freestyle, 4x200m freestyle relay); 1952 gold (4x200m freestyle relay), 4th (1500m freestyle); PAN AMERICAN GAMES: 1955 gold (3 medals); AAU NATIONAL CHAMPIONSHIPS: 21.
James Price McLane was seldom a world record beater but almost always a winner–a winner of the big ones such as 21 Nationals, 3 Pan Am and 3 Olympic gold medals. He was the youngest ever Men's AAU swimming champion when he won the National Long Distance title at 13, swimming for Harold Minto and Akron's Firestone Swimming Club. He was the U.S. team's oldest Pan American champion at 24, married and swimming for the Army.
Between Firestone and the Army, McLane was the most persistent of Yale's 3 Ms, with 9 National wins. The 3 Ms (Moore, Marshall and McLane) were the stars of Hall of Famer Bob Kiphuth's greatest Yale teams. Kiphuth was McLane's guardian. McLane's greatest Yale year was 1953 when he won 3 events at the National AAU Indoor Championships.
In a career extending from 1944 through 1955, McLane was perhaps the greatest tactician in swimming. He almost always had a plan that included complete knowledge of his opponents' usual race plan. McLane relished the tactics and strategy of gamesmanship. His classic victory was the gold medal he won in the 1500 meter freestyle at the 1948 Olympic Games. High School boy McLane studied the great John Marshall and found the Australian liked to swim by hugging the lane line on his breathing side. McLane, who had a powerful kick, swam in the next lane and hugged the other side of the same lane line, sprinting out one body length ahead of Marshall. Kicking hard, McLane let his splash frustrate the Australian. McLane won, then swam with Marshall for three years at Yale. No one had a more fantastic record for a couple of years than Marshall at Yale. Perhaps, remembering his Olympic experience, he was the first swimmer to go all out all the way in longer races. McLane swam second to Marshall in those college years, then came back to win again in 1952 and as late as 1955 after Marshall's career was in decline.
McLane, as captain of the U.S. team in Mexico City, came back in 1955 to dominate the Pan American Games with three gold medals. Tired of swimming but preferring it to guard duty and K.P., the old pro swam just long enough and hard enough to win again.
McLane's greatest contribution to swimming was as a high school boy wonder. He was the forerunner of a youth movement that has put U.S. swimming back on top. In those years (1945-1948) he completely dominated U.S. Outdoor Middle Distance swimming with 13 National and 2 Olympic Championships.
McLane retired in 1955 just one year before another tactician, Australian Murray Rose (a disciple of John Marshall) came on to dominate the middle distances. Only Roy Saari, the American who followed Rose, has repeated McLane's record as a 13-year-old winning a U.S. AAU Men's swim title. It was the 4 mile National Long Distance for Saari as it had been for McLane.