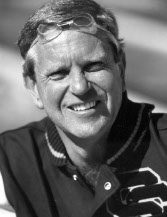 Jim McConica (USA)
Honor Masters Swimmer (2008)
The information on this page was written the year of their induction.
INTERNATIONAL HIGHLIGHTS: World Points – 889, Pre-1986 Points-83. Total Points: 972. Since 1982, he has competed in 6 age groups (30-34 thru 55-59). 46 FINA MASTERS WORLD RECORDS
Jim McConica had early success as a swimmer, first in high school where he placed in the top six in the nation among high school swimmers in the 200 and 400 freestyle. He also anchored the 400 free relay which won the Southern California State Championships for Buena High School, a title which still remains the only title won by Buena High School in any sport by a boys' team.
Jim's success in swimming continued in college during his years at USC. It wasn't until his sophomore year that he made his mark by winning the 200 free at the NCAA's. He became the second person to break the 1:40 barrier behind Olympic Legend, Mark Spitz. Jim finished out his collegiate career by winning a total of six NCAA titles.
Jim found his way back to swimming is his early 30's. Since 1982 he has been in the FINA Masters Top 10 for 20 years. Predominately a freestyle swimmer, he has set 46 FINA Masters World Records in everything from 100 meters to 1500 meters, including the occasional 200 and 400 meter individual medley. Beginning with the world rankings in 1986, he has had 38 number one long course rankings and 36 number one short course rankings, for a total of74 number one world rankings.
Jim's success has also jumped out of the pool and into the open water. He has swum the English Channel and in 1993 swam the Catalina Island Swim, breaking Penny Dean's long standing record. He has since swum the Catalina Channel three times and has completed numerous 25K events. Jim is currently one of the oldest members of the LA County Beach Patrol and can be found working on Zuma Beach.