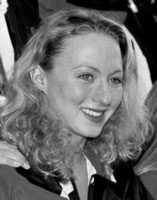 Jill Sudduth (USA)
Honor Synchronized / Artistic Swimmer (2012)
The information on this page was written the year of their induction.
FOR THE RECORD: 1996 OLYMPIC GAMES: gold (team); 1994 WORLD CHAMPIONSHIPS: gold (duet, team); 1989 FINA WORLD CUP: gold (team); 1991 FINA World Cup: gold (team); 1993 FINA WORLD CUP: gold (duet, team); 1995 FINA WORLD CUP: gold (duet, team); 1995 PAN AMERICAN GAMES: gold (duet, team); 1991, 1994 FRENCH OPEN: gold (duet, team); 1991 MALLORCA OPEN: gold (duet, team); 1993 SWISS OPEN: gold (duet, team); 1993 GERMAN OPEN: gold (duet, team); US NATIONAL CHAMPIONSHIPS: 1991: gold (team), silver (duet), 1992: silver (duet, team). 1993: gold (duet, team); FIRST JUNIOR WORLD CHAMPION: duet, team; UNDEFEATED IN DUET COMPETITION BETWEEN 1993 AND 1996 WITH HALL OF FAMER BECKY DYROEN-LANCER; 1993 SWIMMING WORLD MAGAZINE WORLD SYNCHRONIZED SWIMMER OF THE YEAR.
Ever since Jill learned to swim at the age of four, she loved synchronized swimming and competed in the sport for 20 years. Upon reaching the National Team, she practiced five to seven hours a day, six days per week and became one of the world's all-time best synchronized swimmers.
Swimming for world renowned Coach Chris Carver at the Santa Clara Aqua Maids, Jill began winning Junior National titles, and in 1989 she became the Junior World Duet and Team Champion. Finished second in gold medal count for all Americans at the 1994 World Aquatic Championships which includes swimming, diving and water polo.
Over the next four years, she won 16 major international competitions, including the French, German and Swiss Opens, Pan Pacific Championships, the World Cup and the 1991 World Championships Team event. Whenever a routine called for a "bridge", Jill's strength made it happen, as well as the strength of eggbeater kicks from the other girls holding her up.
In 1993, Jill was "Swimming World Magazine's" World Synchronized Swimmer of the Year, and a USSS All-American from 1990 to 1995. In 1994, she was a member of the USA World Championship Team, winning both the team and duet events with her Hall of Fame partner Becky Dyroen-Lancer. Between 1993 and 1996, the duo was undefeated in duet competition.
For the Atlanta Olympic Games of 1996, the solo and duet events were replaced with the team competition. Jill and her teammates received a perfect score of ten in the team event, the first and only perfect score in Olympic synchronized swimming history, until Russia received a ten at the 2008 Olympic Games in Beijing. The USA edged out the strong teams from Canada and Japan for the gold medal.