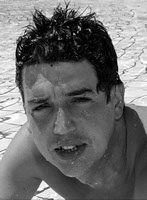 Jesus Miguel Rollan (ESP)
Honor Water Polo (2012)
The information on this page was written the year of their induction.
FOR THE RECORD: 1988 OLYMPIC GAMES: competitor; 1992 OLYMPIC GAMES: silver; 1996 OLYMPIC GAMES: gold; 2000 OLYMPIC GAMES: competitor; 2004 OLYMPIC GAMES: competitor; 1998 World Championships: gold; 2001 World Championships: gold; 1999 FINA WORLD CUP: bronze
In 1900, water polo became the first TEAM sport in the Olympic Games. During those 25 Olympic Games from 1900 to 2008, only 16 nations have medaled in the sport, a remarkably small number. Of those countries, Spain has medaled the fewest times, only twice, and that was due primarily to the efforts of their two star players, Hall of Fame player Manuel Estiarte, perhaps the game's greatest player, and their remarkable goalie, Jesus Miguel Rollan.
Possessed with strong legs, cat-like reflexes and a cool head, Rollan joined the Spanish National team in 1986 at the age of 18 and played on five Olympic teams from 1988-2004. At the 1992 Barcelona Olympics, Spain met Italy in an epic gold medal match with the home country's King Juan Carlos in attendance. Although Italy emerged the winner after six grueling and tense overtime periods, the Spanish team had surprised the world with their performance.
Four years later in Atlanta, they made up for this painful loss. Led by Rollan's stingy defense, Spain beat the U.S. in the quarter finals five to four, Hungary in the semi-finals eight to seven and in the final, Spain beat Croatia seven to five to win the gold medal.
In 1998, Spain won its first FINA World Championship in Perth, finished fourth in Sydney in 2000 and won the FINA World Championship again in 2001. Rollan's popularity was second only to Estiarte, who had played in six Olympic Games.
Rollan made fans through his animated manner in the pool, and his modest charm. He was very personable and generous to other water polo players of all ages, and promoted the sport around the world. "Playing polo is all I know and want to do in life," he said at various times in his career when he was at the top, and seemed able to stop almost every shot on goal from anyone.
After a number of injuries and surgeries forced his retirement, Jesus became depressed like many athletes at the end of their careers. He was receiving treatment for depression, funded by the Spanish Olympic Committee, at the time of his tragic death in 2006. Only 37 years old, let us always remember him as the exceptional sportsman and ambassador for water polo. He was loved by all who knew him.