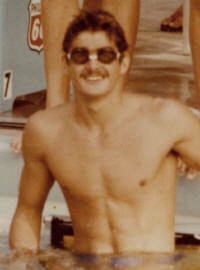 Jesse Vassallo (USA)
Honor Swimmer (1997)
The information on this page was written the year of their induction.
FOR THE RECORD: 1980 US OLYMPIC TEAM: Boycott; 1984 US OLYMPIC TEAM: 4th (400m IM); WORLD RECORDS (3): 200m IM, 400m IM; 1978 WORLD CHAMPIONSHIPS: gold (200m backstroke, 400m IM): silver (200m IM); 1979 PAN AMERICAN GAMES: gold (200m IM, 400m IM), silver (200m backstroke); US NATIONAL CHAMPIONSHIP TITLES (17): 7 short course (200yd backstroke, 200yd, 400yd IM, 400yd medley relay), 10 long course (200m backstroke, 200m 400m IM); NCAA NATIONAL CHAMPIONSHIP TITLE: (400yd IM); 1978 WORLD SWIMMER OF THE YEAR.
He began his swimming career at Club Deportivo de Ponce and became the most successful swimmer ever from the Caribbean Island of Puerto Rico. Given the name Jesus David, dubbed Cheyenne by his mother, Daise, but known throughout the world as Jesse, this young swimmer, at an early age, became the hero to many a younger competitor. During his six year international career, Jesse Vassallo set three world records in the individual medley, lasting a combined five years.
Because his father wanted better and faster training for Jesse and Jesse's four brothers, and also to improve upon their English, the family moved from Ponce, Puerto Rico, to Miami, where, at age 11, in 1974, Jesse began swimming with the Hurricane Swim Club. Soon he won his first national record at age 13 in the 200m backstroke. At that point, his father, a successful businessman and professional basketball player, knew his son had what it took to be a champion. That year became a pivotal year for Jesse and the family as they moved to California to train under the famed Mission Viejo coach, Mark Schubert.
Under Schubert's cautious guidance, Jesse improved enough to compete in his first National Championship meet (1976) and win his first National Championship race (1977) at Kelly Pool in Philadelphia.
In 1978, as a 17 year old "Gold Fish," Jesse got gold fever at the Berlin World Championships, winning both the 200m and the 400m individual medleys and setting a world record in the 400m individual medley, a record he broke once more and held for four years; all while he was still in high school.
In 1979, Vassallo claimed five more US National Championships and prepared for his first swim in his native Puerto Rico since his family had left seven years previously. "I was a little nervous about swimming at the Pan American Games in Puerto Rico, a little unsure how the people would like me having gone to the United States to train. But they were great. Once I got there, I knew I wanted to swim super fast for the people and for my family," Vassallo said. And super fast he swam, winning the 200m IM in world record time (2:03.29) and the 400m IM, and taking the silver in the 200m backstroke. Friends and relatives, all sporting yellow "Vassallo" t-shirts led the crowd in "Viva Vassallo" cheers.
Jesse Vassallo was the Kid of the IM; world record holder in both the 200m and 400m IM, World Championship gold medalist in the 400m IM, and Pan American Games gold medalist in both the 200m and 400m IM. Swimming World magazine selected him as World Swimmer of the Year and the European press chose him as one of the world's top ten athletes, among major sports stars as Mohammed Ali, Bjorn Borg and Mario Andretti.
But hardships fell upon Jesse. He was riding high to compete at the 1980 Olympic Games in Moscow. Like many other athletes, his dreams were shattered with the Olympic boycott. His father was struck by a car on the road and never recovered, and during his illustrious career as a student athlete at the University of Miami swimming under Coach Bill Diaz, Jesse seriously damaged his left knee ligaments, requiring surgery and almost two years of recovery, keeping him out of the 1982 Guayaquil World Championships. "You don't know what you've got until you don't have it anymore. Now I want it back," said Jesse.
Propelled by his passion for sports he inherited from his father, and the relentless spirit of a true champion, his comeback in 1984 included another national title in the 200m backstroke and another spot on the US Olympic Team where he managed a fourth place in the 400m IM race at Los Angeles.
The recovery time before the Olympics was not quite long enough to fully heal and prepare for international competition.
After 14 years, following the 1984 Games, he announced his retirement from competitive swimming. Since then, he has conducted swimming clinics in the US, Puerto Rico and Central and South America and currently coaches the swim team in his hometown. He and his brothers have established a successful manufacturing operation. Jesse lives with his wife Bethsabee and their three children Jess, Victor and Alejandro, in Puerto Rico.