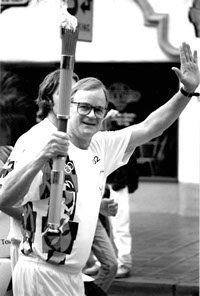 Jeff Farrell (USA)
Honor Masters Swimmer (2011)
The information on this page was written the year of their induction.
INTERNATIONAL HIGHLIGHTS: World Points- 628, Pre-1986 points- 23, Total Points- 651; Since 1981, he has competed in seven age groups (40-44 through 70-74); 27 FINA MASTERS WORLD RECORDS.
No man ever overcame a greater handicap to make the U.S. Olympic swimming team than Jeff Farrell. His story is one of the most inspirational in Olympic history and a classic example of determination.
After the Rome Olympic Games, Jeff left swimming and lived abroad for the next 20 years. He returned to the USA in 1980, to swimming in 1981 and picked up where he left off – as a champion. Inspired by a friend to get back in the water, coach Judy Bonning took Jeff's natural talents into the modern age of swimming. Re-learning how to start, turn and train have helped him achieve Top ten rankings in 19 of the last 30 years. He has set 27 FINA Masters World Records mostly in freestyle events but also in the I.M., butterfly and one in the breaststroke.
Though he is now over 50 years removed from his Olympic medals, Jeff has barely slowed down and is currently dominating the 70-74 age group on the Masters circuit.
In 1960, Farrell's best time in the 50 yard freestyle was 22.5. His 70-74 age group national record in the same event is 24.1. Essentially, Farrell has maintained his speed and defied, or at least slowed the aging process, showing a loss of just three one hundredths of second a year. Equally astounding and a testament to the benefits of Masters Swimming is the photo that appeared in last year's ESPN Magazine's Body Issue, featuring Farrell.
Six years ago, Jeff underwent open-heart surgery and he now has a bovine valve (yes, from a cow) implanted in his heart, but not even that could slow him down. He did not swim for six months after the surgery because he promised his wife he would not.
"She realized how miserable I was and let me swim again," says Jeff.
Jeff Farrell has never let anything stop him. And that's what has always made him an inspiration.