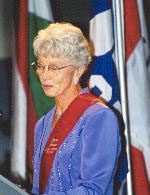 Jayne Owen Bruner (USA)
Honor Masters Swimmer (1998)
The information on this page was written the year of their induction.
FOR THE RECORD: 32 MASTERS WORLD RECORDS: 50m & 100m freestyle, 50m & 100m backstroke, 50m & 100m breaststroke, 50m & 100m butterfly, 200m I.M.; 1986 MASTERS WORLD CHAMPIONSHIPS: gold (100m freestyle, 50m & 100m breaststroke, 100m butterfly, 200m I.M.); 1988 MASTERS WORLD CHAMPIONSHIPS: gold (3 events); 1989 MASTERS WORLD CHAMPIONSHIPS: gold (50m & 100m freestyle, 100m & 200m I.M.); 1996 MASTERS NATIONAL CHAMPIONSHIPS: 62 long course (50m/100m/200m freestyle, 50m & 100m backstroke, 50m/100m/200m breaststroke, 50m & 100m butterfly, 200m & 400m I.M.), 34 short course (50y/100y/200y freestyle, 50y/100y/200y breaststroke, 50y & 100y butterfly, 100y & 200y I.M.); 104 MASTERS NATIONAL RECORDS: 38 long course, 66 short course; MASTERS ALL AMERICAN.
She likes to win and she enjoys being at the top of her age group. She is a competitor and she enjoys swimming fast. She enjoys being number one. For over a 16 year period, Jayne Bruner has become one of the most successful Masters swimmers in the world.
Jayne is a swimmer who developed her elite athletic prowess during the years of her Masters swimming, not necessarily as a youngster. When Olympic Swimmer Ann Curtis visited Jayne's hometown of Indianapolis, Indiana, Jayne began swimming at the Riviera Club and competed in the National Championships for coach Bud Sawin. But it was only for a three year period. When the team disbanded in 1951, so did her zest for competitive swimming.
It was 21 years later at age 39, that Jayne took up swimming again, this time to lose weight. Although she lost the weight, she didn't lose her appetite for the sport and in 1974 with the coaxing of husband Bob, she joined the Masters Program. Since that time, she has not looked back. She was coached by Jan Smith (1974-1982), Bob Clemmer (1981-1990), Mark Davin (1990-1993) and Steve Ercolano (1996-present). They have all proclaimed her positive attitude and sincere desire as the qualities that make her one of the most coachable swimmers they have coached.
Her first 24 years of Masters Swimming was spent in Pittsburgh with Team Pittsburgh Aquatics. She credits the coaching techniques in stroke mechanics and training for her improvement in the sport. She swam 6 days per week, lifted weights 3 days per week and stayed on a strict diet of healthy food. She would spend extra time in the pool just to feel better and to compete on the elite level. She has always been a hard worker, but enjoys the friendships and social opportunities that develop within Masters swimming. Although she now trains with Curl-Burke Swim Team in Northern Virginia, she competes with the D.C. Masters Team of Washington, D.C., a team she competed with even while living in Pittsburgh. She relaxes by being physical, scuba diving, taking diving trips to the Caribbean, etc. She must have gills, she would rather swim a mile than walk one.
To date, Jane has set 40 world records in all four strokes plus the individual medley. Those include 25 long course records and 15 short course records competing in the Age groups from 45 to 65 years. She has won 13 World Championship gold medals. She has set 39 U.S. National long course records, 48 U.S. short course yards records and 20 U.S. short course meters records. She is a perennial U.S.M.S. All-American and All-Star (outstanding swimmer in age group).
Masters Swimming has become a part of Jayne's life as much as eating and sleeping. She represents the epitome for which other Masters swimmers strive, for she not only is an example of racing success in the sport, she is an example of the camaraderie, wholesome environment and healthy living which Masters Swimming promotes.