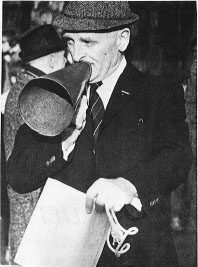 Jan Stender (NED)
Honor Coach (1973)
The information on this page was written the year of their induction.
FOR THE RECORD: Great coach who developed 8 world record holders who held 41 individual world records and 10 relay world records, 1940's, 1950's.
With most men in their late 60s, we say "he was", but with the Netherlands's Jan Stender, he forces us to say "he still is."
Stender is the first International Swimming Hall of Fame Honoree to celebrate his induction ceremonies by running 20 times around the Hall of Fame complex, a third of a mile oval know as "Hall of Fame Drive". At 67, he begins each day at 5:30 with an hour in his gym, followed by a 13 kilometer run, plus frequent swims between classes in his teaching pool.
Such persistence is typical of Stender, who drives himself in everything but a car; swimming, football, cycling, running, walking, skating and water polo. The Dutch Sunday driving ban during the Arab oil boycott simply endorsed Stender's lifestyle of marathon Sunday runs, river swims, cycle races and city-to-city ice skating. His Sunday routine began when he was 9 and is still going on as he approaches 68. His 40-year coaching career began at 19.
It was quite natural in view of Stender's exercise habits that he became the first swimming coach to lead his swimmers in massive out-of-water exercise programs. What Kiphuth started with dryland exercises, Stender translated 40 years ago into total fitness for coach and pupil. Stender's regimen with his "De Robben" Swim Club (begun in 1940) was so tough that Dutch swim rivals dubbed him "The Hangman of Hilversum".
Stender was never much of a recruiter. He was a world neighborhood Coach. His greatest tribute, one never equaled in swim coaching annals, came in 1955 when he had developed 8 World Record holders from girls growing up on one street in Hilversum, Holland. His Dutch girls, led by Mary Kok (10 world records) were supposed to test Australia in the 1956 Olympics until the Netherlands withdrew its entire Olympic team, donating the funds to the Hungarian war relief.
Jan Stender's world record holders began with Nel Van Vliet, his first 1948 Olympic breaststroke champion, and included Mary Kok, Lenie deNijs, Geertje Wielema, Aty Voorbij, Rita Kroon, Greetje Kraan, Rita Tigelaer, Hanny Termeulen and two of the world's all-time world professional marathon winners, Herman Willemse and Judith deNijs.
His Dutch swimmers held 41 individual world records and participated on 10 world record relay teams. Breaststroker Nel Van Vliet (1948) and backstroker Geertje Wielema (1952) set Olympic records.
It is with characteristic candor that Stender shrugs "But the glory of this sport is very transient and how many people still know these names?" It is the objective of our International Swimming Hall of Fame that "people" not forget the Dutch girls or their Hilversum-Robben Swim coach, Jan Stender.