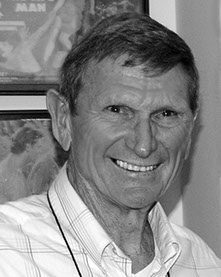 James Gaughran (USA)
Honor Coach (2015)
The information on this page was written the year of their induction.
FOR THE RECORD: 1963 PAN AMERICAN GAMES: ASSITANT WATER POLO COACH; 1973 HISTORIC SWIM TOUR OF CHINA: Head Coach; COACH OF 26 OLYMPIC SWIMMERS WINNING 8 GOLD, 2 SILVER AND 5 BRONZE MEDALS AT NCAA CHAMPIONSHIPS; COACH OF 4 OLYMPIC WATER POLO PLAYERS WINNING SILVER AND BRONZE MEDALS; COACH OF 26 WORLD RECORD HOLDERS AND 11 RELAY WORLD RECORD HOLDERS; COACH OF 2 WORLD CHAMPIONS AND 2 WORLD CHAMPIONS RELAY; COACH OF 15 NCAA NATIONAL CHAMPIONS AND 4 RELAY NATIONAL CHAMPIONS; COACH OF ONE AIAW NATIONAL CHAMPION (WOMEN); COACH OF STANFORD'S 1963 NCAA NATIONAL WATER POLO CHAMPIONSHIP TEAM; COACH OF STANFORD'S 1967 NCAA SWIMMING NATIONAL CHAMPIONSHIP TEAM; MEMBER 1956 U.S. OLYMPIC WATER POLO TEAM; PAST PRESIDENT OF COLLEGE SWIMMING COACHES ASSOCIATION OF AMERICA; AUTHOR OF ADVANCED SWIMMING (1972); NCAA ALL AMERICA TEAM: 1953,1954; MULTIPLE WINNER WAIKIKI ROUGH WATER SWIM.
He grew up in San Francisco where he was taught to swim by his father at China Beach, in the shadow of the Golden Gate Bridge. At Sequoia High School, in Redwood City, he developed into a champion swimmer and water polo player under coach Clyde Devine, who predicted Jim Gaughran would one day be an Olympian.
Moving on to Stanford University, he excelled as a two-time NCAA All-America Swimmer, first team All-Conference water polo player, and was captain of both teams his senior year. Upon graduation he continued to play water polo for the Olympic Club of San Francisco while attending Stanford's Law School – and was selected to play for the USA water polo team at the 1956 Melbourne Olympic Games.
In 1960 Jim was married to his high school sweetheart Joan, was a father, and had a job as a lawyer in the office of the California Attorney General when he got a call from Stanford's Athletic Director; his old coach, Tom Haynie, was retiring – Would he consider taking the job?
His decision to leave law and enter coaching was one he's never regretted. As Stanford's coach from 1960 to 1980, he has trained 26 Olympic swimmers, who set 26 world records and won eight gold, two silver, and five bronze medals.
He attributes his success to those who have helped him along the way, starting with Clyde Devine and Tom Haynie. Then, from observing the coaching, training techniques, and methods of George Haines, who coached several of his Stanford swimmers at the Santa Clara Swim Club. Even his great coaching rival, Peter Daland at USC – and of course to all the athletes he coached.
In the 1967 season, Stanford tied USC, ending their long string of winning dual meets, but most observers still believed the NCAA Title would belong to either USC or Indiana. But from the first event at East Lansing to the last, Stanford swimmers swam lifetime best performances and broke many NCAA and American records. Stanford's 800 free relay broke the American record by an unbelievable 8.1 seconds. After the meet, Ohio State's Hall of Fame Coach, Mike Peppe, called Stanford's championship performance "the greatest team effort ever!"
Perhaps of greater historical significance than anything he did at Stanford, was his role as head of the delegation for the swimming team trip sponsored by the U.S. State Department to China in 1973. It was the first official State Department sponsored cultural exchange to China since 1949. His leadership and diplomacy in interacting with China's diplomatic, athletic and political leaders, including Jiang Qing (Madame Mao) has been credited by both the Chinese and American governments with helping to pave the way for the normalization of relations between the nations. In 2013, over 200 former members of China's national swimming and diving teams attended a Fortieth Anniversary Celebration of that exchange at the Hall of Fame in Fort Lauderdale, to thank Jim and the other members of the US delegation for helping bring China back into the Olympic family of sporting nations and ending the Cultural Revolution.
Adding to the great aquatic tradition of Stanford University, Jim Gaughran becomes the twenty-fifth Cardinal to be inducted into the International Swimming Hall of Fame.