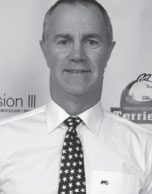 Jack Groselle (USA)
Honor Masters Swimmer (2015)
The information on this page was written the year of their induction.
INTERNATIONAL HIGHLIGHTS (SWIMMER): World Points-702, Pre 1986 Points- 0, Total Points-702; Since 1989, he has competed in 7 age groups (30-34 through 60-64). 23 FINA MASTERS WORLD RECORDS:
He began swimming when he was just five years old. But it wasn't until high school, in St. Joseph, Michigan that Jack Grosselle started to blossom as a swimmer. Attending Hiram College, in Hiram, Ohio, he won the Conference 100 yard freestyle title all four years. He was a five-time All-American in the freestyle sprints and in his senior year he won the NCAA Division III national title in the 50 free. Upon graduating in 1976, Jack Groselle held six school records and received the Campbell Award as Hiram's Male Student-Athlete of the Year. Almost forty years later, he still holds the school record for the 50 free with a time of 21.2 seconds, set in 1975.
Groselle was introduced to Masters Swimming in 1981 and his first meet was at the summer long course nationals in Canton, Ohio, which happened to be close to home for him. He had never swam long course meters, so he signed up for short course yards times for the meet. He says, "Imagine my surprise, when I was seeded first in the 50 free and had Jim Montgomery on one side of me and Joe Bottom on the other side. These were two of the greatest swimmers of the 1976 Olympic Games!" Groselle says they both beat him but they were great sportsmen and welcomed him to Masters Swimming!
He may have started in Masters slowly, but like his college career he has come on strong, setting the first of his 23 individual World Records in five different age groups, in 1998. In 2014 alone, he set eight individual and two relay short course and long course world records. The two records he is most proud of are a mixed relay, where one of his record smashing teammates was his wife Laura. The other highlight was in the 100 meters long course free – in which he obliterated the once thought to be unbreakable mark of Rich Abrahams, of 58.61, with a time of 57.79. Abrahams had held the mark since 2005. This swim also made Jack the fastest American Swimmer in the event through four different age groups. A fantastic achievement!
Jack Grosselle is a grain and dairy farmer in Hiram, where he trains with the Solon Stars Swim Team. He says he has made many friends through Masters Swimming and has been lucky enough to have some great coaches. He also really enjoys the fact that he is able to train and travel to swim meets all over the world with his wife, and now with his children.
Until recently, he also served as the men's and women's swimming coach at his alma-mater, where he had the unique experience of being able to coach all three of his children. He was even blessed, as Jack says, to have been able to coach his daughter to a national championship.