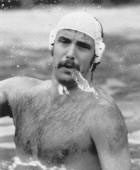 Istvan Szivos, Jr. (HUN)
Honor Water Polo (1996)
The information on this page was written the year of their induction.
FOR THE RECORD: FOUR OLYMPIC GAMES: gold (1976) silver (1972) bronze (1968,1980); THREE WORLD CHAMPIONSHIPS: gold (1973), silver (1975, 1978); FOUR EUROPEAN CHAMPIONSHIPS: gold (1974, 1977), silver (9170) 5th place (1966); NINE NATIONAL TITLES; FIVE HUNGARIAN CUP TROPHIES; TWO EUROPEAN CHAMPIONS CUPS; 308 NATIONAL TEAM APPEARANCES; 500 FIRST DIVISION GAMES.
The mighty country of Hungary has won an Olympic medal in water polo in every Olympic Games from 1928 to 1992, except for one, a record unequaled by any other country. Among the great players who have emerged from this small country, Istvan Szivos, Jr. is one.
Born in Budapest in 1948, Szivos, Jr. is the son of the great Istvan Szivos, Sr. who played on the 1952 and 1956 Olympic Gold Medal teams. Beginning at a young age, Istvan, Jr. played for Ferencvaros and OSC Budapest Club. From 1966 to 1980 he made 308 National Team appearances.
He played on four Hungarian Water Polo Olympic teams, winning the gold medal in 1976 at Montreal, silver in 1972 at Munich, and the bronze in 1968, in Mexico City, in Moscow 1980. He competed on three world championship teams, winning the gold medal at the First World Championships in Belgrade, 1973 and silver medals in 1975 Cali, and 1978 Berlin. With a large frame of 6 feet, 10 inches, 240 pounds, Istvan Junior was a player to be feared. In European Championship competition his dynamic teams won two gold medals in 1974 and 1977 and the silver in 1970.
Before his retirement in 1980, he had competed in more than 500 first Division games and had won 9 Hungarian National Championship Titles, 5 Hungarian Cup Trophies and 2 European Champions Cups with the OSC team.
Following active competition, he became coach of the Ferencvaros team winning two championship titles. After graduating from the Medical University in Buduapest, Dr. Istvan Szivos is president of Ferencvaros Torna Club, a member of the Board of the Hungarian Water Polo Federation and works full time as a dentist in Budapest.