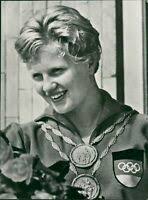 Ingrid Kramer (GDR)
Honor Diver (1975)
The information on this page was written the year of their induction.
FOR THE RECORD: OLYMPIC GAMES: 1960 gold (3m springboard, 10m platform); 1964 gold (springboard), silver (platform); 1968 5th (springboard); EUROPEAN CHAMPIONSHIPS: 1962 gold (springboard).
In the 1958 European Championships a pert blonde 15-year-old Dresden doll named Ingrid Kramer was fourth off the springboard and eighth off the tower. Ten years later at the 1968 Mexico Olympics, 25-year-old Frau Ingrid Gulbin-Kramer finished 5th in springboard diving. In between, the Deutscher Democratic Republic's first great aquatics star was the world's top diver and under three different names. In 1960 Fraulein Kramer became the first non-American woman in forty years to win an Olympic diving gold medal. She did it twice, winning both the 3-meter springboard and the 10-meter platform. Again at Tokyo in 1964, Miss Kramer, now Mrs. Engel-Kramer (Engel was a wrestler) sniffed gold and won the springboard, although second to American Leslie Bush off the tower. In Mexico she was Frau Gulbin-Kramer and again an Olympic finalist.
Rated off numbers of Olympic golds and length of time at the top, only the USA's Pat McCormick a double winner at Helsinki in 1952 and Melbourne in 1956, is ahead of Ingrid Kramer on the all-time women's diver list. Paula Jean Meyers, USA, in three Olympics was bridesmaid to both McCormick and Kramer. Juno Stover, USA, was in more Olympics (4) but did not finish so high so often (one silver and one bronze).
Perhaps Ingrid Kramer's greatest diving was not in any of her three Olympics but at the 1962 European Championships where she won the springboard by 14.79 points and the tower by 12.04. She is the first East German honored at the International Swimming Hall of Fame.