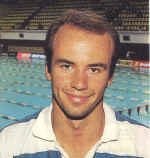 Igor Poliansky (URS)
Honor Swimmer (2002)
The information on this page was written the year of their induction.
FOR THE RECORD: 1988 OLYMPIC GAMES: gold (200m backstroke), bronze (100m backstroke, 4×100 medley relay); FIVE WORLD RECORDS: 3-100m backstroke, 1- 200m backstroke, 1-200m backstroke (S.C.); 1985 EUROPEAN CHAMPIONSHIPS: gold (100m backstroke, 200m backstroke); 1986 WORLD CHAMPIONSHIPS: gold (100m backstroke, 200m backstroke), bronze (4x100m medley relay); 1986 GOODWILL GAMES: gold (100m backstroke, 200m backstroke); 1987 EUROPEAN CHAMPIONSHIPS: silver (200m backstroke).
Igor Poliansky was the premier backstroke swimmer following the Olympic Games of 1984 when USA's Rick Carey won both the 100m and 200m backstrokes in Los Angeles. Between 1984 and 1989 Poliansky won every 100m and 200m backstroke event in international competition in which he competed, except one – the 100m at the 1987 European Championships in Strasburg, Austria, where he placed second to teammate Sergei Zabolotnov.
Poliansky emerged as the world backstroke leader at the 1985 European Championships in Sofia, beating Dirk Richter (GDR) and Zabolotnov (URS), respectively, to win gold medals in both the 100m and 200m events. Poliansky broke the 200m backstroke world record in 1985 at Erfurt, with a time of 1:58.14, a record that stood for over six years until Spain's Martin Zubero broke it using the no-touch backstroke turn adopted in competition that year.
In 1986, Igor won both backstroke events at the Goodwill Games and the World Championships at Madrid, edging out his German Democratic Republic opponents. In 1988 at Tallinn, he broke Rick Carey's 4 1/2-year-old 100m backstroke world record and repeated it again two more times. That same year in Bonn, he set the 200m backstroke short course world record for a total of five world records in his career.
Of the 200m race, Igor said, "It's a very long distance and you have to concentrate very hard in order to pace yourself correctly. This gold medal is the best prize for me, but the 100 is my favorite race."
At the 1988 Seoul Olympics, Poliansky surprised everyone by winning the 200m backstroke ahead of Frank Baltrusch (GDR) and Paul Kingsman (NZL), his arch rivals from the previous four years. He won the bronze medal in the 100m backstroke behind Daichi Suzuki (JPN) and David Berkoff (USA) by less than .2 seconds.