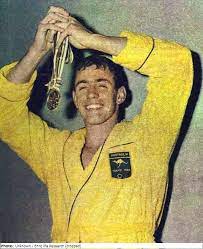 Ian O'Brien (AUS)
Honor Swimmer (1985)
The information on this page was written the year of their induction.
FOR THE RECORD: OLYMPIC GAMES: 1964 gold (200m breaststroke), bronze (relay); 1968 4th (relay); WORLD RECORDS: 4 (200m, 110yd, 220yd breaststroke, 1 relay); COMMONWEALTH GAMES: 1962 (110m, 200m breaststroke; relay); 1966 (100m, 200m breaststroke); AUSTRALIAN CHAMPIONSHIPS (9): 1963, 1964, 1965, 1966 (100m breaststroke); 1962, 1963, 1964, 1965, 1966 (200m breaststroke).
Ian O'Brien moved to Sydney when his father died in 1961 to swim for Terry Gathercole. He was an immediate success-State Champ and National Champ for the next six years. He won three golds in the Commonwealth Games the next year in Perth. Yet, his wins were in yards and no one took him seriously.
The Tokyo Olympic favorites were Jestremski (USA) and Pankin. O'Brien remembers with joy how he and his coach worked out in Tokyo before the Games with the Russian and American coaches, watching and timing. In that practice he came within two seconds of the World Record for 200m breaststroke–the big psyche was on! It was an omen of his Olympic races which followed. He set a World and Olympic Record, winning the gold over both Pankin and Jestremski.
O'Brien's greatest showing, however, would be saved for the 1966 Commonwealth Games in Kingston, Jamaica. Six weeks before the Games, out of shape and 30 pounds overweight. O'Brien decided to have a go at it. He not only "had a go at it" but won the 110 and 220 yard breast, the latter in 2:28 (which translates to 2:27.0 for 200m or two tenths better than his Olympic and World Record in Tokyo two years before.)
He came back again to swim in the 1968 Mexico Olympics, but this time he was fourth. His memories are of Russian teenagers pestering him to sell Beatles' records, gum and nylons; of training in sunny Queensland and of standing on top of the victory stand in 1964 and 1966 when he was not supposed to win. These moments and his trips to Mexico, Jamaica, Japan and a tour of Russia and Europe, plus bringing his coach's World Records back to Australia, are the memories of this Olympic Champion and World Champion.