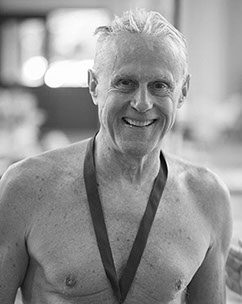 Hugh Wilder (USA)
Honor Masters Swimmer (2017)
The information on this page was written the year of their induction.
INTERNATIONAL HIGHLIGHTS (SWIMMER): World Points-668, Pre 1986 Points-0. Total Points 668. Since 1990, he has competed in 6 age groups (45-49 through 70-74); 25 FINA MASTERS WORLD RECORDS, USMS NATIONAL RECORDS: 50m, 100m, 200m backstroke
Swimming has always been the center of Hugh Wilder's life: presenting challenges in the pool; helping him deal with challenges on dryland; teaching the importance of health and fitness, commitment and discipline; becoming lifelong friends with lane-mates and coaches; discovering the rewards of following one's passion and simply providing joy in the water.
Hugh's father and brother were competitive swimmers and have always been an inspiration to him. One of his earliest swimming memories is from a sports camp he participated in at Ohio State University in the early 1950's, when Olympic champion Yoshi Oyakawa demonstrated the backstroke for awestruck nine year olds.
As a Masters swimmer, Hugh was thrilled as he recognized Yoshi's beautiful backstroke 40 years later at a USMS National Championship meet.
He swam (and studied Philosophy) at Denison University. After twenty years out of the pool, focusing on raising children and establishing his career, he found Masters swimming in 1990. In 1992, his parents watched "one more age group meet", the Indianapolis FINA World Championships, seeing him set his first FINA Masters World Record.
Over the last 26 years, Wilder has set 25 Masters world records in six age groups (45-49 through 70-74), most recently setting two in August 2017 at the USMS Long Course Nationals. He currently holds a total of six world records. Two of his current world records (50m backstroke long and short course) in the 65-69 age group are faster than the ones he set in the 60-64 age group.
Hugh was the first person over 60 to swim the 100yd backstroke in under 60 seconds, setting the USMS national record of 59.29 in 2008. In 2013, he became the first and so far the only person over 65 to swim the 100yd back in under 60 seconds (59.62).
Since 1990, Hugh has been in the Top Ten, 26 times, only missing the Top Ten, once in 26 years. In world rankings since 1990, he has 36- number 1, 13- number 2, 9- number 3 long course and 28- number 1, 16- number 2, and 17- number 3 short course for a total of 64- number 1, 29- number 2, and 26- number 3 total world rankings. Wilder has competed in three FINA World Championships since 1992, winning four gold, one silver and two bronze medals.
Hugh retired in 2010 as a professor of Philosophy, teaching sports ethics, among other topics, from Miami University and the College of Charleston. In addition to Masters swimming, Hugh looks forward to spending his spare time at more age-group swim meets, watching his nine-year old grandson, the newest Wilder family swimmer!