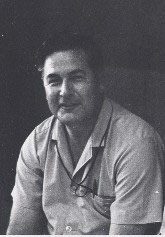 Howard Firby (CAN)
Honor Coach (1985)
The information on this page was written the year of their induction.
FOR THE RECORD: 1946-1985 Canadian Coach; 1964 Olympic Coach; 1958 British Commonwealth Games Coach; 12 World Record holders & 300 Senior Canadian Record holders; 9 International Games Gold Medals; President of the Canadian Swimming Coaches Association (CASA); 1st National Technical Director; 1978 B.C. Sport Hall of Fame; 1979 Canadian Sports Hall of Fame; 1982 Canadian Aquatic Hall of Fame; Writer/Illustrator/Lecturer.
Howard Firby was born in Alabama, but he is first, last and always a Canadian. On his way to becoming a swim coach, he was a World War II pilot with the RCAF, where he studied aerodynamics, later translated to hydrodynamics. He was a post-war polio patient who occupied his long convalescence by studying his muscle functions. For all his adult life, he has been a professional artist. He used this skill to illustrate his teaching as an amateur swim coach for 20 years and, more recently, as a professional coach, writer, illustrator and lecturer around the world (South Africa, Russia, Mexico, Wales, Tokyo, etc.) and into the Canadian hinterland, where he visited 206 grassroots swim clubs as Canada's first Swimming Technical Director.
Thus began the program that produced the current surge in Canadian swim success. It further established Firby as the world's most prolific innovator of stroke drills for every occasion. His several best-selling books, visually written and accurately illustrated, are the international legacy of Firby's depth as a technical coach's coach. As a swimmer's coach, his record is best illustrated by the names and achievements of the people and the teams he has coached. His twelve World Record holders include superstars Mary Stewart and Elaine Tanner, who made believers of those south of the Canadian border with impressive double wins at the U.S. Nationals.
He started a swim club–The Canadian Dolphins–in Vancouver, B.C., which set team records the equal of Mission Viejo and Santa Clara. Firby swimmers set over 300 Canadian senior records, won more than 100 Canadian championships and 10 International Games gold medals.