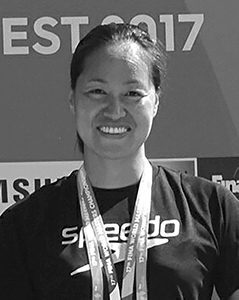 Hitomi Matsuda (JPN)
Honor Masters Swimmer (2018)
The information on this page was written the year of their induction.
INTERNATIONAL HIGHLIGHTS: World Points-1882, Pre-1986 Points-0. Total Points 1882. Since 1990, she has competed in 4 age groups (25-29 through 40-44); 80 FINA MASTERS WORLD RECORDS
A native of Tokyo, she learned to swim at the age of five. In the early 1990's, Hitomi Matsuda was known as one the top young stars in Japan's swimming program. She joined the national team in 1992 and at the 1993 FINA Short Course World Championships, Hitomi took silver in the 200m breaststroke and placed 4th in the 200 IM. At the 1994 FINA World Championships she was a finalist in both events, but after not being selected to Japan's 1996 Olympic team, she retired at the age of 19.
Matsuda returned to the sport in 2003 because she realized how much she loved and missed competitive swimming. This time, however, it was as a Masters swimmer.
Since 2004, Hitomi Matsuda has been in the Top Ten every one of the 14 years she has competed. While competing in the 2014 (Barcelona) and 2017 (Budapest) FINA Masters World Championships, Hitomi brought home six gold medals and one silver. Over the years, she has garnered 80 FINA Masters World Records in her four different age groups.
Since 2012, Hitomi has been training with a local high school team, even though she now swims in the 40-44 age group. She says it keeps her young at heart and she attends many of their meets. They are constantly learning from each other, about swimming and life.
When she is not training and competing, Hitomi is a professional swim coach who gives private lessons to children and adults of all ages – because, as she says, "Swimming will add years to your life, it keeps you healthy and the older you get, the more you need it. Additionally, as a Masters swimmer, you can make new friends and stay in touch with many old friends in the swimming world."
Her motto: "Don't over eat, swim and you'll sleep well." It seems to be working for Hitomi!