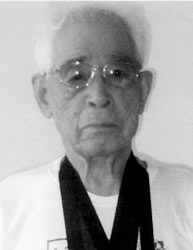 Hiromu Yoshimoto (JPN)
Honor Masters Swimmer (2013)
The information on this page was written the year of their induction.
INTERNATIONAL HIGHLIGHTS (SWIMMER): World Points – 620; Pre-1986 points – 0, Total Points – 620; Since 1986, he has competed in 4 age groups (75-79 through 95-99); 33 FINA MASTERS WORLD RECORDS: 5 FINA MASTERS WORLD CHAMPIONSHIPS (1986, 1990, 2000, 2002, 2004); 10 gold, 3 silver, 1 bronze.
Hiromu Yoshimoto began swimming in elementary school. He continued through junior high and in 1931, was chosen to represent Japan at the 1932 Los Angeles Olympic Games. He was a member of the swim team while attending Waseda
University High School as well as the Waseda University. After the war, he again became involved in aquatics and played goalie in water polo where he and his team won the first National Sports Festival of Japan.
In 1977, Yoshimoto began work at Itoman Swimming School in Nishinomiya after retirement from his career at the Furukawa Electric Co., Ltd. It was there he was given the opportunity to renew his love of swimming. In 1984, he competed and won two gold medals at the first International Masters Championships. It was the beginning of his career in Masters Swimming.
Hiromu has been in the top ten rankings 20 times. He set all of his 33 FINA Masters World Records in the breaststroke for a total of 17 long course and 16 short course. Beginning with world rankings in 1986, he has 22 number 1, 4 number 2, 5 number 3 long course meters rankings and 24 number 1, 2 number 2, 2 number 3 short course rankings for a total of 46 number 1, 6 number 2 and 7 number 3 total rankings. He has competed in five FINA Masters World Championships (1986, 1990, 2000, 2002, 2004) winning ten gold, three silver and one bronze medal. He has 33 FINA Masters World Records and has competed in five age groups, 75-79 through 95-99.
In 2010, Yoshimoto was awarded the Sports Grand Prix prize of Japan. Today Yoshimoto is 98 years old and lives with his family in Nishinomiya City, Japan.