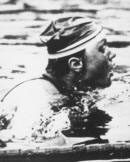 Hilde Schrader (GER)
Honor Pioneer Swimmer (1994)
The information on this page was written the year of their induction.
FOR THE RECORD: 1928 OLYMPIC GAMES: gold (200m breaststroke); 2 WORLD RECORDS: 400m breaststroke (1928), 200yd breaststroke (1929); 1927 EUROPEAN CHAMPIONSHIPS: gold (200m breaststroke).
What fellow countryman Erich Rademacher was to men's swimming, this pretty German breaststroker was to women's swimming the late 1920s.
Born in 1910, Hilde Schrader won the 1928 European Championships in the 200 meter breaststroke at age 17. Little did she know she would become queen of the breaststroke for her native country.
Celebrating German's return to the Olympic Games of 1928 following their World War I expulsion, Hilde Schrader was the only individual to win a gold medal in swimming for her country and one of three to receive a medal in swimming, along with Rademacher and Lotte Muhe, her fellow breaststroker. Muhe had broken Marie Baron's world record on July 15th, but three weeks later in Amsterdam, it was her teammate, 18 year old Hilde Schrader who was in control. Her opening heat time of 3:11.6 bettered the Olympic record by 16 seconds. In the semifinals, Schrader equaled Muhe's world record. The finals were her slowest race, but she was still able to win comfortably.
Schrader broke another world record in 1929 and became the first woman ever to swim the 200 yard breaststroke in under three minutes. We are proud to honor Hilde Schrader, a true pioneer in women's swimming.