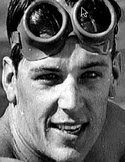 Herman Willemse (HOL)
Honor Open Water Swimmer (2008)
The information on this page was written the year of their induction.
FOR THE RECORD: Marathon Swimming's Great Racer (1959- 1967); five titles 25 mile Atlantic City Swim: 1960 – 1964; three titles 24 mile Lac St. Jean Swim: 1961 – 1963; two titles 15 mile Canadian National Exhibition (C.N.E.): 1961 – 1962; four titles 10 mile Tois Riviere Swim: 1961 –1963, 1965; 38 mile Rio Coronda Swim Race: 1963 (1st), 1964 (3rd), 1966 (3rd);
There are marathon swimmers, long distance racers and open water swimmers, but this swimmer was each of these. Born in Holland, Herman Willemse was always the swimmer to beat, the "rabbit" of the pack and the undisputed world's greatest marathon swimmer of the 1950's and 60's. Out of the water he was of a retiring, academic nature, but in the water, Willemse was always planning the next move to position himself in the race.
He changed the image of marathon swimming when he was one of the first to use a scientific approach of studying water conditions to develop race strategy.
Nicknamed the Flying Dutchman, a 17th century's ghost-of-a-ship that could cut and "fly" through the wind and waves, Willemse "reined" over the greatest of marathon races: five titles in the 25 mile Atlantic City Swim (1960 thru 1964), three titles in the 24 mile Lac Saint John Swim in Quebec, four titles in the 10 mile Tois Riviere Swim in the St. Lawrence River, and two titles at the C.N.E. Swims in Lake Ontario. Between 1960 and 1964, he was nearly unbeatable in Mar del Plato (Argentina) (28 miles), Suez Canal (26 miles), Quebec City (10 miles), Chicoutimi (28 miles), Rio Parana (55 miles), Capri to Naples (23 miles), the English Channel and others.
When the World Marathon Swimming Championship points were initiated in 1964, Willemse finished second only to Hall of Famer Abouheif. Willemse swam his solo swims as if he was racing He became marathon swimming's greatest racer.