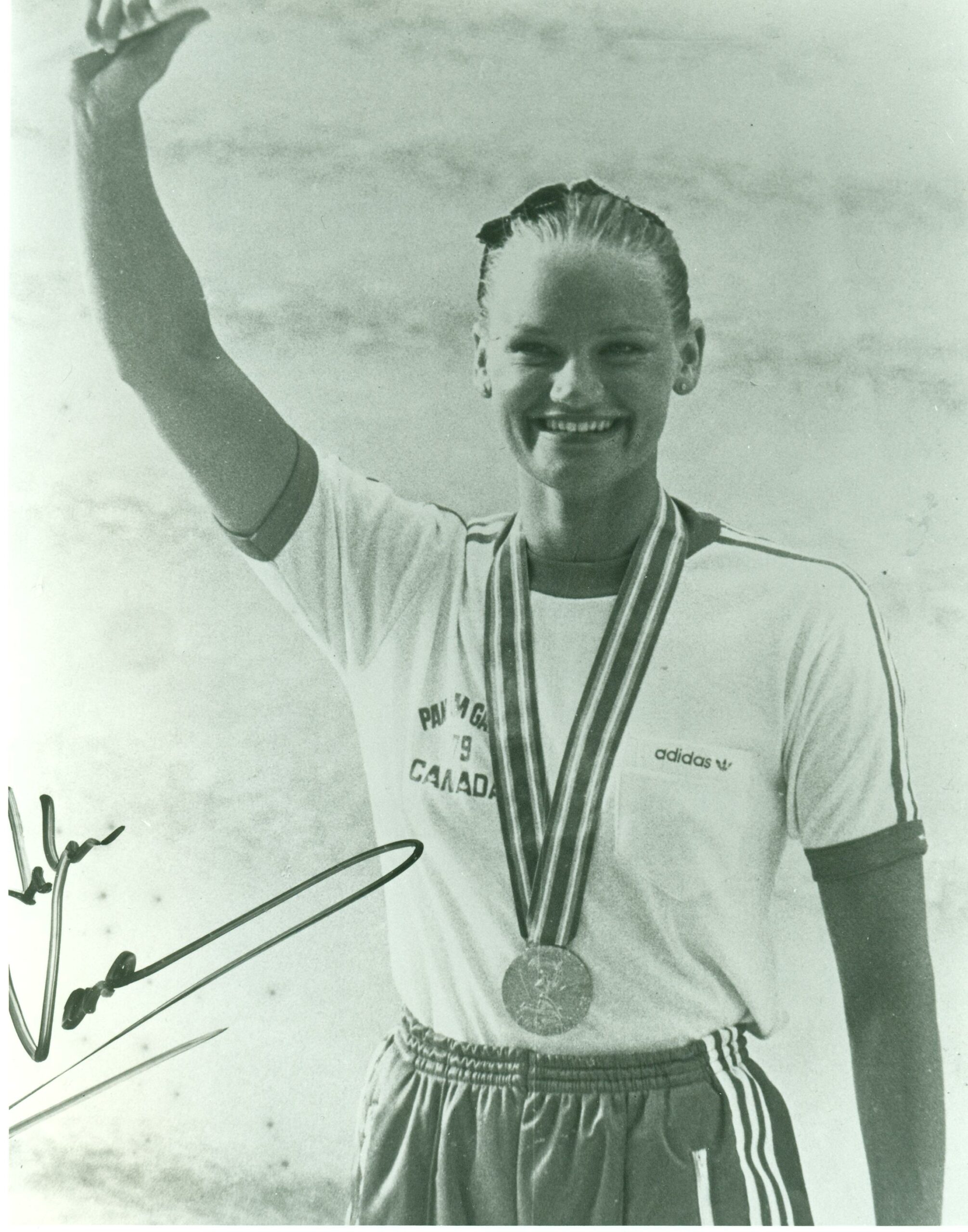 Helen Vanderberg (CAN)
Honor Synchronized / Artistic Swimmer (1985)
The information on this page was written the year of their induction.
FOR THE RECORD: WORLD CHAMPIONSHIPS: 1978 gold (solo, duet); PAN AMERICAN GAMES: 1979 gold (solo, duet), silver (team); FINA WORLD CUP: 1979 gold (solo, duet); PAN PACIFIC GAMES: 1977 gold (duet), silver (solo, team); 1979 gold (solo); CANADIAN JR. CHAMPION: 1973 (solo, duet); CANADIAN SENIOR CHAMPION: 1977, 1978, 1979 (solo, duet); 1978, 1979 (figures); 1979 Sports Federation of Canada's Velma Springstead Trophy Award. Elected to Canadian Sports Hall of Fame.
Canadian Helen Vanderberg was the first non-American to win the World Championship in Solo and Duet synchronized swimming (Berlin 1978). She can best be characterized as the most athletic synchronized swimmer of all time. This quality, contributing to her strength and acrobatic skill, was developed by extensive weight training and modern dance classes, combined with long hours and years in the water.
This dedicated training took five hours a day, seven days a week for at least six years. With various partners, she achieved success in pairs as well as solo queen of the world. Unfortunately, there was no synchronized swimming in the Olympics until Los Angeles, or the world would have seen Helen there, too. As it is, she conquered all and retired after winning the Pan Pacific Games in 1979 to finish her physical education degree. She opened a fitness club in her native Calgary–which is a good place for a woman who was not only the world's greatest synchronized swimmer of her day (World Solo and Duet, Berlin 1978), but Canada's outstanding female athlete (Elaine Tanner Trophy 1977-79). Her Duet partner was Michelle Caulkins. Helen was also Calgary's Female Athlete of the Year and Canadian Aquatic Sports Athlete of the year.
In 1979, Helen Vanderberg accomplished what no other synchronized swimmer had ever done before: winning two golds in the Pan Am Games, two golds in the FINA World Cup, and one gold at the aforementioned pan Pacific Games. For all this she was awarded the Velma Springstead Trophy as her Country's best female athlete by the Sports Federation of Canada. her coach was Debby Muir of the Calgary Aquabelles.