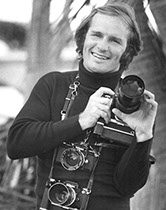 Heinz Kluetmeier (USA)
Honor Contributor (2017)
The information on this page was written the year of their induction.
FOR THE RECORD: PHOTOGRAPHER AT ELEVEN SUMMER OLYMPIC GAMES: 1972, 1976, 1980, 1984, 1988, 1992, 1996, 2000, 2004, 2008, 2012; PHOTOGRAPHER AT EVERY WINTER OLYMPIC GAMES SINCE 1972; FIRST COVER: Mark Spitz, Sports Illustrated; COVERED COUNTLESS SUPER BOWLS AND WORLD SERIES; WORLD SWIMMING CHAMPIONSHIPS SINCE 1973; KENTUCKY DERBY'S; INDY 500's; PHOTOGRAPHED JOHN F. KENNEDY ON THE CAMPAIGN TRAIL; 2007 LUCY AWARD FOR LIFETIME ACHIEVEMENT AS PHOTOGRAPHER.
Heinz Kluetmeier was born and raised in Germany until he was nine, when his family moved to Milwaukee, Wisconsin. He was introduced to the idea of a career in photo journalism when several photos taken of him by his mother, with his multi-talented pet parakeet "Chirpy," were picked up and published nationally by the Associated Press. By age 15, he was shooting pictures for the local AP office.
Instead of accepting a full time job with the AP upon graduating from high school, he decided to pursue a degree in engineering at Dartmouth College because, as his father said, "photography "wasn't a serious career."
After working as an engineer for two years, he returned to photography in 1969, working full-time for the Milwaukee Journal, Time, Life and Sports Illustrated magazines. While he has shot every major collegiate and professional sport, every Olympic Games, winter and summer except two since 1972, and has over 100 Sports Illustrated covers to his name – as a high school swimmer – he has always had a special affinity for the aquatic sports.
His first swimming assignments took him to Indiana University, then to the 1972 US Olympic Trials and then to the 1972 Olympic Games, where he captured the greatest moment in Mark Spitz' illustrious career, being lifted onto the shoulders of his teammates after winning his seventh gold medal. He was there at the first FINA World Championships in Belgrade – and at the wedding of Mark Spitz. He was there in Montreal to photograph Gary Hall carrying the flag and holding his namesake on the deck, to capture the ever-present smile of John Naber and the American women winning "The Last Gold".
In 1988, he donated his time and talents to raise money for USA Swimming through a tabletop book, Swimming: A Collection of Photographs by Heinz Kluetmeier, Commemorating One Hundred Years of Amateur Swimming in America.
Always looking to outdo his competition and for a new angle with a unique point of view, Heinz was a pioneer in the development of split-shot lenses and strobes that captured swimmers above and below the water without distortion. In 1992, at the Olympic Games in Barcelona, he became the first photographer to place a remote controlled camera underwater to capture an Olympic swimming event.
Sixteen years later, Heinz and his assistant Jeff Kavanaugh operated a remote underwater camera that landed the signature image of the Beijing Olympic Games: Michael Phelp's "Miracle Finish" in the men's 100m butterfly race – frame by frame.
It has been Kluetmeier's passion for his art and his ability to capture the passion and emotion of our sports that have singled him out from his colleagues. Simply put, Heinz Kluetmeier has the power to make us feel – and remember the great moments -forever.