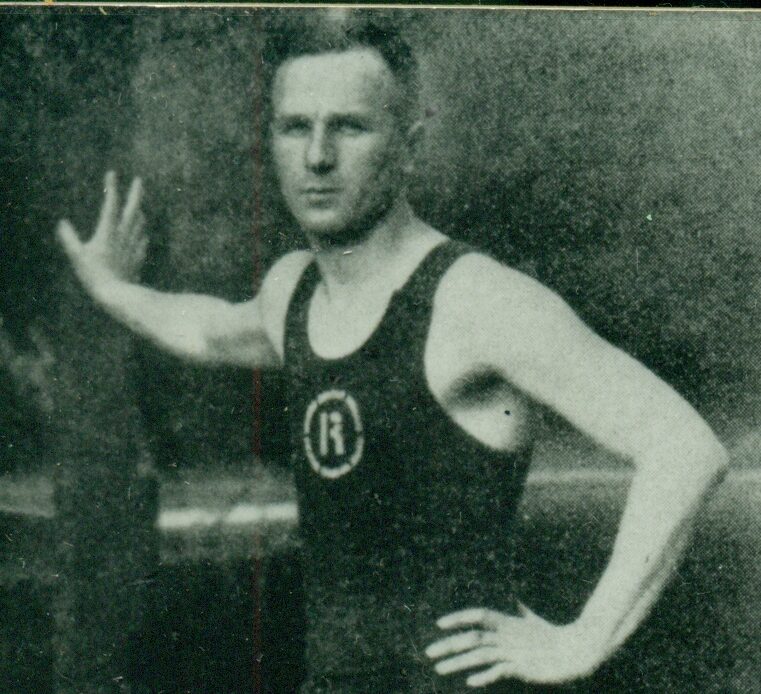 Harry Hebner (USA)
Honor Swimmer (1968)
The information on this page was written the year of their induction.
FOR THE RECORD: OLYMPIC GAMES: 1908 bronze (4x200m freestyle relay); 1912 gold (100m backstroke), silver (4x200m freestyle relay); 1920 4th (water polo); U.S. NATIONAL CHAMPIONSHIPS: 35 (ranging from 50 to 500yd freestyle; all backstroke distances; water polo).
In a sport such as swimming where the record books are often re-written before the ink is dry, it is difficult to name the "greatest" swimmer. We must consider all-around swimming ability and longevity of records and/or careers. On all counts, Harry Hebner of the Illinois Athletic Club rates Hall of Fame selection as THE great of his era and one of the greatest in any and all eras.
Hebner's career spanned three Olympic teams (1908, 1912, and 1920) in water polo, freestyle, and backstroke swimming. Europeans regarded him as the premier U.S. water polo player. He was the Olympic backstroke gold medal winner in 1912. For 7 years, beginning in 1910, he held all world backstroke records and won seven straight U.S. Nationals on his back. His total of 35 U.S. National championships ranging from 50 to 500 yards freestyle, plus all backstroke distances and his captaincy of both the IAC swimming and water polo teams reflected his great leadership as well as his skill. Five times his IAC team won the U.S. Nationals in water polo between 1914 and 1924.
Hall of Fame coach L. deB. Handley, a prominent swimming journalist and member of the rival New York Athletic Club, called Hebner "today, the greatest all-round swimmer in the world," after Hebner had set 100 and 220 yd. freestyle records (he used the trudgen crawl) along with his backstroke world standards.
Harry Hebner was a contemporary of Perry McGillivray, Michael "Turk" McDermott, A. C. Raithel, Ethel Lackie, Bob Skelton and many others under the fabulous Hall of Fame Coach Bill Bachrach. Other IAC swimmers already in the Hall of Fame are Johnny Weissmuller, Jamison Handy, Sybil Bauer and Arne Borg. All looked to Harry Hebner as their leader, a fun guy and the athlete's athlete for the perfect competitive attitude under pressure.