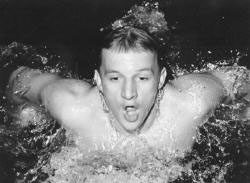 Hans Fassnacht (GER)
Honor Swimmer (1983)
The information on this page was written the year of their induction.
FOR THE RECORD: OLYMPIC GAMES: 1972 silver (relay); WORLD RECORDS: (400m freestyle, 200m butterfly); EUROPEAN CHAMPIONSHIPS: 1970 gold (200m freestyle, 1500m freestyle, relay), silver (400m freestyle, 400m individual medley, relay); 5 U.S. AAU CHAMPIONSHIPS: (200yd freestyle, 400yd freestyle, 1500m freestyle, 2 relays); NCAA CHAMPIONSHIPS: (1650yd freestyle, 400yd individual medley); 4 NATIONAL CHAMPIONSHIPS: (200yd freestyle, 400yd freestyle, 1500yd freestyle); AMERICAN RECORDS (Short course): 500yd freestyle, 1650yd freestyle, 400yd individual medley; AMERICAN RECORDS (Long course): 400m freestyle, 1 relay.
Hans Fassnacht was the Federal Republic of Germany's greatest post World War II swimmer and athlete during a period when the country needed a great champion in sports. Most of their national effort had been on rebuilding the state and re-establishing West Germany as an industrial power. Because of Fassnacht's swimming accomplishments, he was selected as Germany's Sportsman of the Year three straight years in a row: 1969, 1970 and 1971, beating out Hans Beckenbauer, the greatest soccer player on the national team known throughout the world as an international soccer powerhouse.
The Sportsman of the Year Award included all professional as well as amateur athletes and is the highest athletic award presented in Germany.
Fassnacht set a total of forty-nine German swimming records beginning in 1965 with the 800-meter freestyle. Within three years, he set his first European record in the 1500-meter freestyle and swam the 400-meter and 1500-meter freestyles at the 1968 Mexico City Olympics. He finished 6th as a member of the 4×100-meter freestyle relay and 4×200-meter freestyle relay.
While attending Long Beach State University in 1969 under Coach Don Gambril, Hans set the world record in the 400-meter freestyle and became the first swimmer under four minutes in the 400-meter freestyle, short course. He was a two-time NCAA Champion in the 400-yard individual medley and 400-yard freestyle.
Within the two years before the Munich Games, Fassnacht set the world record in the 200-meter butterfly and set an additional ten European records. His next Olympic achievement was at the 20th Olympiad of Munich in his home country. His four by 200-meter freestyle relay team won the Silver Medal, beaten only by the world record setting USA team. Hans placed fifth in the 200-meter butterfly in a field that was led by world record holder Mark Spitz.
As Germany's premier swimmer, Hans Fassnacht set twenty-one European records, two world records and five world best times. He was a national hero to a country which was selective in its athletes and became a role model to another great swimmer, Michael Gross, who emerged ten years later on Germany's international scene, swimming the same events.