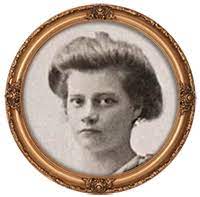 Greta Johanson Brandsten (SWE)
Honor Diver (1973)
The information on this page was written the year of their induction.
FOR THE RECORD: OLYMPIC GAMES: 1912 gold (10m platform); First female Olympic diving champion; SWEDISH NATIONAL CHAMPION: breaststroke; 100m freestyle; high diving; Winner of the Countess de Casa Miranda Cup (Kristina Nilsson); Taught swimming and diving in Sweden and California, USA.
Greta Johanson Brandsten was the first Olympic diving champion in 1912, the first Olympiad that allowed women participants. Greta as the winner of tower diving (10m platform) was considered the daring darling of the Games held in her home town Stockholm, Sweden.
When she was presented with her Olympic Gold Medal and laurel wreath by King Gustav V, the home crowd applauded in a manner reserved for no others . . . even the fabulous American Indian Jim Thorpe and the magnificent Hawaiian Duke Kahanamoku.
Greta Johanson Brandsten was born January 9, 1895, learning to swim and dive in Stockholm's municipal baths with free tickets issued through her public school. Swedish children were then required to take efficiency swimming tests that included breaststroke, backstroke, underwater swimming, deep sea diving to pick up objects, long distance swimming, and "trampoline diving" from 5 and 10m heights. Greta enjoyed her swimming and at age 15 she became Swedish National breaststroke champion. The next year (1911) she won the Nationals again, this time in the 100m freestyle and in high diving where she was self taught. At the ripe old age of 17 she won her Olympic gold Medal, was decorated by her King, and won diving's most coveted a ward The Countess de Casa Miranda Cup (Kristina Nilsson) presented by the famous opera singer.
Greta taught swimming and diving in a small town in the south of Sweden in 1913 and then emigrated to California where she was a physical education teacher at the University of California and then Stanford, working with her old Olympic teammate Ernst Brandsten.
The two divers became a famous team as Ernst coached Stanford swimming from 1915 to 1948, coached several U.S. Olympic diving teams, and generally dominated world diving for 10 years. They operated Scarsville Lake Park, a profitable family-owned sports recreation business for 27 years.
Greta follows her famous coaching husband and his three greatest divers Clarence Pinkston, Al White, and Pete Desjardins into the International Swimming Hall of Fame.