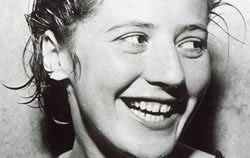 Greta Andersen (DEN)
Honor Swimmer (1969)
The information on this page was written the year of their induction.
In modern times when most girls stay at the top of swimming only about long enough to turn their hair green, green-eyed Greta Andersen's, 20 years as a world class swimmer, is a notable exception.
FOR THE RECORD: OLYMPIC GAMES: 1948 gold (100m freestyle), silver (4x100m freestyle relay); 1952 4th (4x100m freestyle relay), 8th (400m freestyle); WORLD RECORDS: extended from 100yd (1949) to 50 miles (Chicago to Kenosha, WI in 1962); Swam English Channel both ways; First person to swim a major channel both ways (Santa Catalina).
During this period, she has swum more than 10,000 miles, averaging 800 miles a year. It is ironic that Miss Andersen, the world's greatest woman distance swimmer, achieved Olympic fame as a sprinter. Her world records extend from the 100 yards (1949) to 50 miles (Chicago to Kenosha, Wisconsin in 1962). She won the Olympic Gold Medal for Denmark in the 100 meter sprint at London in 1948, came back in the 1952 Olympics at Helsinki to make the finals at 400 meters, swimming with the use of only one leg, having undergone knee surgery just before the games. Miss Andersen's long course 100 yard world record (58.2) was set in 1949 and was not broken until 1956, by which time she was setting a 10 mile world record in California's Salton Sea (4 hours 25 minutes) and a 25 mile world record around Atlantic City, New Jersey (10 hours, 17 minutes).
Greta is most famous as a channel swimmer, holding the women's speed records both ways in the English Channel (France to England, 11 hours, 1 minute) (England to France, 13 hours, 10 minutes). She also has the somewhat less envious distinction of the woman spending the longest time in the water on a channel attempt (23 hours in an unsuccessful 1964 attempt to swim the channel round trip, non-stop). Six years earlier, Miss Andersen was the first person to swim a major channel both ways (Santa Catalina, where she holds both the one way and the round trip records for all comers, men as well as women).
Now operating a California swim school that bears her name, Miss Andersen is 5'8 1/2″ and 141 lbs. distributed over a 38-26-39. For cold water marathon swims, she lets her weight go up to 160. Her success at that weight has made her the largest money winner in women's professional swimming history. Miss Andersen was the first woman to consistently beat most of the men and frequently beat all of the men in her races, a marathon practice since followed by American Marty Sinn and Holland's Judy DeNys.
Greta Andersen has been first to raise this interesting speculation. If women can compete favorably with the top men at marathon distances, why shouldn't they be able to swim as fast as the men at the long and middle distances popular in amateur swimming?