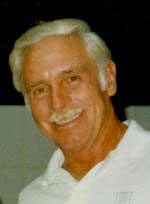 Glen McCormick (USA)
Honor Coach (1995)
The information on this page was written the year of their induction.

FOR THE RECORD: 1956 OLYMPIC GAMES: Women's Coach; 1973 WORLD CHAMPIONSHIPS: Coach; Coach of 4 Olympians ( 3 gold, 2 silver, 1 bronze); Coach of 8 U.S. National Champions; International judge at 1984, 1988 OLYMPIC GAMES and 1986 WORLD CHAMPIONSHIPS.
If there were a stereotypical diving coach, Glen McCormick would not be it.
Aside from diving, McCormick has led a varied and interesting life. He competed on trampoline at USC and qualified for the Olympic Trials in wrestling in 1952. After receiving his Master's Degree in education, he joined United Airlines and flew for 30 years before retiring. During this time, he also completed 21 1/2 years of flying in the Naval Reserve.
Glen's history of coaching dates back to 1953 when he led an exercise class and taught trampoline lessons at the Los Angeles Athletic Club. After classes, he would sit with the swimming and diving coach, Rusty Smith, watching and learning. When Smith left the club, Glen became the head coach. The team was very competitive, and what he lacked in experience and knowledge, he made up for by working harder.
At the 1956 Olympic Trials, McCormick's hard work paid off. His athletes took the Trials and he was named the women's Olympic coach. His success continued at the Olympics where his US divers won an incredible five of six medals; the clean sweep being broken by Canada's Irene MacDonald, one of his divers.
In 1968, he started McCormick Divers which he coaches today. Glen's coaching style is laced with a family-like approach filled with love and inspiration.
Some of the McCormick Olympic diving greats include: Pat McCormick, the first diver to win two gold medals in two successive Games; Hall of Famer Gary Tobian, gold medalist on the springboard and two-time diving silver medalist for platform diving; Irene MacDonald, bronze medalist in springboard; and Willie Farrell and Dick Conner who competed on the 1956 Olympic Team. Under McCormick's tutelage, eight national champions also emerged including; Larry Anderson, Kit Salness, Ann Cooper, Debby Lippman and daughter, Kelly McCormick.
Throughout his career, Glenn McCormick has been the head coach of the 1973 World Championships, and eight US National Championships. He has served as an international judge at the 1984 and 1988 Olympic Games as well as the 1986 and 1994 World Championships.
Glenn McCormick has retired from 30 years of flying as a captain for United AirLines, but continues to coach the McCormick Divers with his wife Debby. Those who have been fortunate enough to dive with Glen remain part of his family and love and respect him.