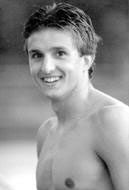 Giorgio Lamberti (ITA)
Honor Swimmer (2004)
The information on this page was written the year of their induction.
FOR THE RECORD: 1 WORLD LONG COURSE RECORD: 200m freestyle; 2 WORLD SHORT COURSE RECORDS: 200m freestyle, 400m freestyle ; 1988 OLYMPIC GAMES: 5th (4x200m freestyle relay); 1992 OLYMPIC GAMES: 5th (4x200m freestyle relay);1991 WORLD CHAMPIONSHIPS: gold (200m freestyle), bronze (100m freestyle, 4x100m freestyle relay); 1987 EUROPEAN CHAMPIONSHIPS: silver (200m freestyle); 1989 EUROPEAN CHAMPIONSHIPS: gold (100m freestyle, 200m freestyle, 4x200m freestyle relay); 1991 EUROPEAN CHAMPIONSHIPS: silver (200m freestyle), bronze (100m freestyle, 400m freestyle); 18 ITALIAN NATIONAL CHAMPIONSHIPS.
Born January 28, 1969, Giorgio Lamberti became the fastest freestyle swimmer in the world. At age six, his body weak and frail, doctors suggested swimming to build himself up. He began swimming competitively. At age 17, in 1986, as an unknown, he won his first of 18 Italian National Championships. His swimming physique was like that of Roland Matthes twenty years earlier – light and thin, but his heart was unstoppable and his tactical intelligence was great.
Coming from Brescia, a town halfway between Milan and Verona, and swimming for Coach Pietro Santi at Club Leonessa Nuoto, Lamberti was named to the 1986 World Championship team from Italy. Lamberti finished in the "B" final in the 200m freestyle and was on the 4x100m freestyle relay. But he was soon on his way to becoming European and World Champion.
After a coaching change, Alberto Castagnetti took over as club coach and became Lamberti's mentor for his career. In 1988, at the Arena Festival in Bonn, Lamberti set short course world records in both the 200m and 400m freestyle. Seven months later, at the 1988 Seoul Olympics, Giorgio finished a disappointing 12th place. The burden of preparing for his final academic examinations and the constant hounding by the Italian press towards this new and exciting rising star of Italian swimming paid its toll on Lamberti's performance. He took a short break.
It was at the 1989 European Championships in Bonn, that Lamberti began to excel again. He won gold in both the 100m freestyle and the 200m freestyle. His 200m freestyle was in world record time, 1:46.69, a record which stood for ten years until broken by Grant Hackett of Australia in Brisbane, 1999. This ten-year period is the longest period of time in which any individual has held the 200m freestyle world record since Freddy Lane (AUS) established the first recorded record of 2:28.6 on August 18, 1902. By defeating Arthur Wojdat of Poland and Anders Holmertz of Sweden, Lamberti set Europe on fire with his three gold medals which also included the 4x200m freestyle relay.
At the 1991 World Championships in Perth, Australia, Lamberti showed he was the fastest swimmer in the world in his event, the 200m freestyle. He won a second gold medal as a member of Italy's 4x200m freestyle relay team. He competed later in the year at his third European Championship, winning the silver medal in the 200m freestyle, only .05 seconds behind Arthur Wojdat, and the bronze medal in the 100m freestyle and 400m freestyle behind Alexander Popov (URS) and Evgeni Sadovyi (URS) respectively.
Giorgio competed at the 1992 Barcelona Olympics, placing fifth with the 4x200m freestyle relay. All totaled, he had four world records, one in the 200m freestyle long course, two in the 200m short course and one in the 400m freestyle short course. He became the most celebrated swimmer in Italy.
After retirement in 1993, Giorgio has served in numerous swimming capacities including the 1994 Rome World Championship Organizing Committee, the Brescia Provencial Delegate to the Italian Swimming Federation (FIN), president of the G.A.M. Team Sport Society of FIN and the Italian Disability Sport Federation, as well as a consultant to other swimming and sport organizations.