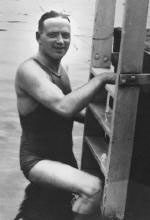 Gerard Blitz (BEL)
Honor Pioneer Swimmer (1990)
The information on this page was written the year of their induction.
FOR THE RECORD: OLYMPIC GAMES: 1920 silver (water polo), bronze (100m backstroke); 1924 silver (water polo); 1936 bronze (water polo); WORLD RECORDS: 1 (400m backstroke); ASA RECORDS: 2 (150m backstroke); Held 400m backstroke World Record 6 years.
Gerard Blitz of Belgium was not only an all-time great in water polo, but an Olympic medal winner and world record holder in swimming. He won a bronze medal for the 100 meter backstroke at Antwerp, Belgium in 1920 and followed that with a world record in the 400 meter backstroke in 1921. He held this record six years until it was broken by Hall of Famer, George Kojac in 1927 (the 400 meter backstroke was a regularly contested event in the 1920s). Blitz also won the ASA (English ) Championships in the 150 yard backstroke for two years (1920 and 1921).
Enough on his "recreational" swimming. Blitz was a "Blitzkreig" when he rolled over on his stomach to play water polo. He spearheaded his Olympic home team to a silver medal almost winning it at the Antwerp Olympics and went on to star as one of the world's best water polo players for Belgium in the Olympics until World War II stopped the games.