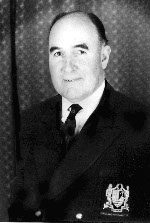 Gerald Forsberg (GBR)
Honor Pioneer Contributor (1998)
The information on this page was written the year of their induction.
FOR THE RECORD: Order of the British Empire (O.B.E.); Royal Navy (R.N.) retired; British Long Distance Swimming Association: champion swimmer competing in 211 long distance championships; Channel Swimming Association: President (1963-1997); Author of three books, numerous articles promoting the Royal and Merchant Navy's swimming, lifesaving interests and long distance swimming; 40 years as regular columnist for Swimming Times promoting long distance swimming.
From his early days as a young swimmer and water polo player to his years as an octogenarian, this giant of a man spent his whole life in, under or on top of water – salt and bitter to the taste or fresh and freezing to the touch. Born in 1912, this man of prodigious memory not only achieved tremendous success as a competitor and athlete in long distance swimming but also became the guiding light to hundreds of thousands of readers in his books and magazines about marathon swimming. Gerald Forsberg, known as Gerry in the marathon swimming circles, has been one of the greatest single influences in promoting long distance swimming.
He first went to sea in 1928 and served the British Royal Navy with valor for over 40 years serving in the Atlantic, the Mediterranean, the Far East and the North Sea. Later he received the Order of the British Empire as Lord Mountbatten asked him to salvage the Comet Airline, which crashed into 200 meters of water of Elba in 1954. Commanding officer of 5 destroyers, Commander Forsberg supervised the rescue of over 500 persons from the sea under dangerous wartime conditions resulting in his 1943 promotion "For Meritorious War Service."
Although he had some prior experience, he began long distance swimming in 1949 with the Cross Solent Swim and following years with the Morecambe Cross Bay Swim (he's done it 29 times and after 35 years still holds the record), Loch Lomond, Loch Neagh (largest in Ireland), the Bristol Channel (England to Wales) and others. In 1957 he became only the 13th person to cross the English Channel, England to France, and did it in record time (13 hours, 13 minutes). The same year he also won the Inaugural, famed British Long Distance Swimming Association 10 mile Championship and repeated the following year. He set the double solo record of 12 hours, 58 minutes.
By 1982, his many swims have clocked over 8,800 miles having trained for and competed in over 211 open water championships. By 1998 (he has slowed down just a wee bit), he has gone over 13,000 miles.
Contrastingly he has won four national Masters indoor sprint titles at age 70. He is the 1977 BLDSA Swimmer of the Year, 1988 Honorary Life Member of the Scottish Amateur Swimming Association and the 1989 BLDSA Official of the Year. For 26 years, he served as Senior Selector for the International Marathon Swimming Hall of Fame and in 1977 was appointed Member Emeritus of the Selection Board. He was awarded the Harold Fern Trophy by the English Amateur Swimming Association for being the male person who has made the most outstanding contribution to swimming at the national or international level over the years. Since 1963, he has been the president of the Channel Swimming Association.
But the Commander's greatest contribution has been through his wit, humor, encouragement, administrative and official duties and journalism. For forty one years, his monthly column in Britain's Swimming Times "Long Distance Swimming" was world wide and contained every bit of news, gossip, advice and information a person could want. It served to inform and inspire those involved in open water, marathon swimming. His openness, choice of words and British humor are what made him the most sought after writer by readers of the sport and around the world. He wrote three masterpiece volumes on long distance swimming, Strokes in Swimming (1961), Long Distance Swimming (1957) and Modern Long Distance Swimming (1963). He has written countless freelance articles, papers and commentaries totaling 40,000 words of print per year.
The British Long Distance Swimming Association Handbook describes him as "a short, aldermanic figure who hasn't touched his toes in 15 years. Favorite posture is with pipe in one hand, a pint in the other, pontificating on swimming." He talks as plainly with the Queen as he does with the aspiring open water swimmer. After all, he is long distance swimming's greatest ambassador and for that we are grateful.