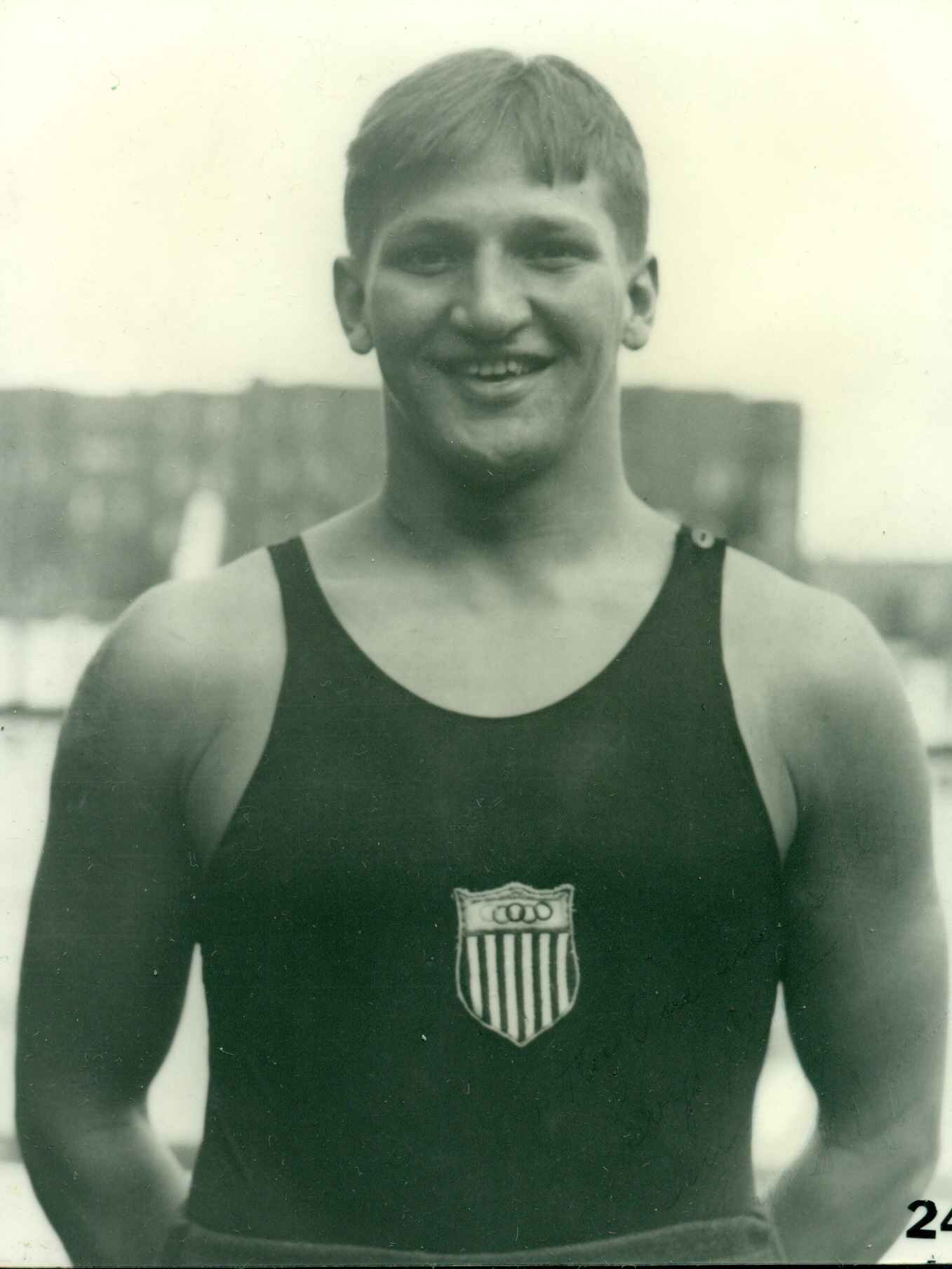 George Kojac (USA)
Honor Swimmer (1968)
The information on this page was written the year of their induction.
FOR THE RECORD: OLYMPIC GAMES: 1928 gold (100m backstroke; 4x200m freestyle relay), 4th (100m freestyle); WORLD RECORDS: 23; NATIONAL SCHOLASTIC CHAMPIONSHIPS (freestyle; backstroke); NCAA and NAAU CHAMPIONSHIPS: 1927-1931 (backstroke; freestyle), undefeated; EUROPEAN TOUR: won 32 races. METROPOLITAN AAU CHAMPIONSHIPS: 1939 gold.
George Harold Kojac was born in New York City in 1910. He broke his first world record as a senior in DeWitt Clinton High School in swimming the 50 yd. backstroke in 29 seconds flat. He broke every National Scholastic freestyle and backstroke record, then won NCAA and NAAU backstroke and freestyle national championships from 1927 to 1931. In the 1928 Olympic Games, Kojac won two gold medals; the 100 meter backstroke (1:08.2) and as a member of the winning 800 meter freestyle relay. Kojac was also fourth in the 100 meter freestyle showing again that his prowess as a freestyler was world class, if not world champion, as was his backstroke.
Unfortunately for swimming, Kojac graduating from Rutgers in 1931, was too preoccupied with Columbia Medical School to try for Olympic glory in 1932. Kojac never lost a college swimming race while representing Rutgers. He set and held a total of 23 world records, beat Johnny Weissmuller's 150 yd. backstroke record while still in high school. On European tour, Kojac won 32 races, beating Hans Schwartz, the German champion, fifteen times. He learned to swim in the East River while watching his brothers' clothes as they swam. Son of Ukrainian immigrants, perhaps the greatest Ukrainian swimmer ever, Kojac first swam competitively with the Boy's Club, later joined the NYAC when not at Rutgers where he worked his way through school, finishing fifth in a class of 160. Ironically, Kojac's decision not to swim in 1932 gave Japan a 2, 2, 3 Olympic sweep at Los Angeles with the gold medal time slower than Kojac's 1928 Olympic record.
In the words of his contemporaries, Johnny Weissmuller and Buster Crabbe, the Hall of Fame needs George Kojac, one of the greatest. Just for kicks, George Kojac came out of retirement 10 years after his glory days and won the 1939 Metropolitan AAU championships.