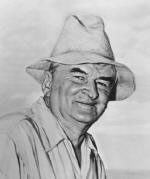 George "Dad" Center (USA)
Honor Pioneer Coach (1991)
The information on this page was written the year of their induction.
FOR THE RECORD: OLYMPIC COACH: 1920; USA AMERICAN TEAM COACH: 1927; Outrigger Canoe Club Coach 1914-1932; Coach of seven Olympians.
The islands of Hawaii turned out the top swimmers in the world from 1910 through the mid-1950s. At the time L. de B. Handley was building the WSA swim program in New York, George David "Dad" Center was building the Outrigger Canoe Club swim program in Honolulu.
Center developed swimming greats Duke Kahanamoku, James Lovett, Olga Clar, and the Crabbe brothers, Buddy and Buster. Kahanamoku and Buster Crabbe without a doubt were his most successful swimmers and went on to win Olympic gold medals and set World Records.
Known affectionately to his athletes as "Dad", Center was born in 1886 in Kipahulu, Maui to the son of a sugar plantation manager. He participated in all sports, but was most active in swimming, surfing and canoeing.
Dad coached the Outrigger swimming teams when the Duke went to the Olympics and returned a champion. Dad's other love was canoeing and he was the first coach to use canoeing as a conditioning sport for swimming, since the same muscles are used for both sports.
As club captain, Dad was in complete charge of all athletic programs and served as the "guiding spirit" who encouraged all young members to participate. His leadership roles lead him to the 1920 Olympics in Antwerp, serving as coach of the U.S. team. Along with Kahanamoku and Mariechen Wehselau, Hawaiian swimmers included Pua and Warren Kealoha, Stubby Krueger, Helen Moses, and Joseph Gilman. His USA team won all the men's and women's events except one. Dad later coached the U.S. National team which competed against Japan.
He retired in 1932, but continued to inspire young athletes to compete to the best of their ability. Dad died in 1962 at the age of 75. He was loved by all who knew him as an exceedingly thoughtful, kind, and gentle person who lived with a heart of gold.