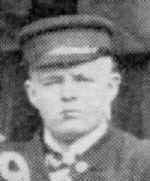 Georg Zacharias (GER)
Honor Pioneer Swimmer (2002)
The information on this page was written the year of their induction.
FOR THE RECORD: 1904 OLYMPIC GAMES: gold (400m breaststroke), bronze (100m backstroke); TWO WORLD RECORDS: 400m breaststroke, 500m breaststroke.
As a competitor in the early part of the 1900s, Georg Zacharias swam for Germany at a time when the Olympic Games were the only international competition for swimming. In the 1904 Olympic Games at St. Louis, Zacharias won the gold medal in the 400m breaststroke; it was the only Olympic breaststroke event at that time and was discontinued after the 1920 Olympics.
He held the 400m breaststroke world record from 1907 to 1910 and the 500m breaststroke world record from 1904 to 1910. World records in these distances were not recognized after 1948. Zacharias also won a bronze medal at the 1904 Olympics in the 100m backstroke, an event where all the medals were won by German swimmers.