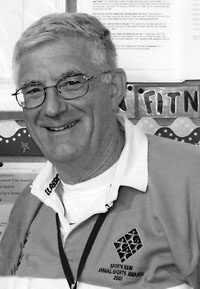 Gary Stutsel (AUS)
Honor Masters Contributor (2011)
The information on this page was written the year of their induction.
INTERNATIONAL HIGHLIGHTS: PRESIDENT MASTERS SWIMMING INTERNATIONAL: 1983-1995 (re-elected nine times); EDITOR MSI NEWS: 1993-1995; CHAIR OF FIRST FINA MASTERS COMMITTEE: 1986-1988 (resigned); MEMBER FINA/MSI MASTERS COMMISSION: established joint World Masters Championships; NATIONAL SECRETARY MASTERS SWIMMING AUSTRALIA (MSA): 1975-1981; EDITOR MSA MAGAZINE: 1976-1978; MEMBER THEN CHAIR MSA TECHNICAL COMMITTEE: 2003-present; MSA OFFICER ON MANY NSW COMMITTEES; CO-FOUNDED MSI: 1983; NEW SOUTH WALES (NSW) MANLY MASTERS COMPETITOR: now in the 70-74 age group.
He began swimming competitively in high school, was captain of the high school's water polo team and narrowly missed making Australia's 1956 Olympic team. Unfortunately, a car accident that injured his left knee put an end to his Olympic dreams. But as soon as he was able, he was back in the water.
Gary Stutsel continued swimming casually once or twice a week through his 20's and mid 30's. Then in 1974, a group of Masters swimmers from the United States came to Sydney to compete with Australian swimmers at distances of 50 to 400 meters in adult age groups. Gary was very impressed and as time went on, Gary became instrumental in organizing Masters Swimming in Australia, creating an organizational structure, drafting a constitution and working with U.S. counterpart and ISHOF Honoree, June Krauser. He was also appointed the first national secretary (executive director) and proved to be a leading figure in establishing Masters Swimming in Australia.
On an international level, he organized and directed the first Pan Pac Masters Swimming Championships in Sydney, 1981, and chaired the International Masters Swimming Forum in 1981 and 1983. In 1983, he co-founded Masters Swimming International (MSI) drafting the constitutions of 1983, 1985 and 1990. He served as MSI President from 1983-1995 (elected nine times) and was one of the six on the FINA/MSI Masters Commission which met in 1985 to draft the Pasadena Agreement to establish joint FINA/MSI World Masters Championships. From 1986-1988, he was the chair of the first FINA Masters Committee.
Over the years, he has coordinated the drafting of international rules for FINA Masters Swimming, Water Polo and Diving, has chaired Jury of Appeal for Pan Pacific Masters Championships, and FINA/MSI World Championships, realigned MSA Swimming rules to match FINA rules and served as referee or technical director at the 2002 World Gay Games, 1986, 1988, 1990 and 2008 World Masters Championships, 2009 World Masters Games and 1983 and the 1989 Pan Pacific Masters Championships. He is the chair of the MSA Technical Committee (2003-present) and serves on numerous NSW committees.
Gary suffered a heart attack in 1996. Despite his heart and knee problems, he got back in the water and currently holds ten Australian records and six relay records. In 2010, he had 34 listings in the National top ten (13 firsts, ten seconds, five thirds, four fourths and two fifths.