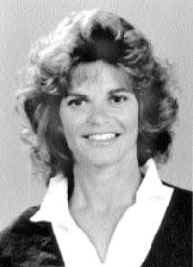 Gail Emery (USA)
Honor Synchronized / Artistic Swimming Coach (2000)
The information on this page was written the year of their induction.
FOR THE RECORD: 1988, 1992, 1996 OLYMPIC GAMES: Head Coach; 1982, 1986, 1991, 1994 WORLD CHAMPIONSHIPS: Coach; 1983 – Present FINA WORLD CUP: Team Coach; 1979 to Present NATIONAL TEAM: Coach; Coach of OLYMPIC SWIMMERS winning 11 gold and 3 silver medals, WORLD CHAMPIONSHIP SWIMMERS winning 14 gold and 9 silver, FINA WORLD CUP SWIMMERS winning 24 gold and 5 silver medals, GOODWILL GAMES SWIMMERS winning 3 gold medals; Coach of 56 U.S. National Team Championships, 11 Junior National Team Championships; Coach of 150 swimmers to National Titles.
Not since the days of Hall of Fame Honoree and San Francisco Merionettes coach Marion Kane, has a coach dominated the world of synchronized swimming. Her entry into the sport more than 38 years ago marked the beginning of a competitive and coaching legacy that has made Gail Emery synonymous with achievement and success. And she did it all with a competitive but compassionate heart that brought out the best in her athletes. Of all synchronized swimming coaches, she is the coach who perhaps had the greatest impact in this sport as it was developing on the Olympic scene.
She started at age eight when in 1959, Gail's mom Sue Alf, long time coach and national judge, introduced Gail to synchronized swimming. She swam first with the Solfettes of Walnut Creek, California, then the Howell Swim Club of Danville and finished her competitive career with the Santa Clara Aquamaids under Hall of Fame coach Kay Vilen. It was here she became a national team champion in 1972 and was part of a demonstration team that performed at the Munich Olympics. Twelve years later, in 1984, synchronized swimming became an Olympic event and Gail was on the Olympic staff.
In the fall of 1972, Gail began coaching the Walnut Creek Aquanuts, a team her mother had founded. Eight years later in 1980, her team finally defeated the long-reigning Aquamaids of Santa Clara beginning a streak of 10 consecutive national championships, never before achieved.
As she began developing future world and Olympic champions, Gail was selected as the National Team coach in 1979, a position she held for 5 Olympic quadrennials. She served as Olympic head coach for three Games (1988, 1992, 1996) and coach/manager for one (1984). Her personal swimmers – duet pair Karen and Sarah Josephson won Olympic silver in 1988 and gold in 1992. Kristen Babb-Sprague won the solo gold in 1992. In 1996, five of Emery's life-long athletes made up the eight girls who won the team gold medal in the first-ever perfect-routine score in Olympic history. With head coach Charlotte Davis in 1984, Gail helped coach Tracie Ruiz to the gold medal in the solo event and to another gold medal in the duet with Candy Costie. Tracie won the silver in 1988. That's a total of 10 Olympians – eight of which originated from Emery's club.
Gail served as coach of every World Championship team from 1982 to 1998 with her U.S. teams winning seven of the 18 gold medals. In FINA World Cup competition, Emery-coached teams have won 25 gold medals and four silver medals, with a 1993 and 1995 sweep of the gold medals – solo, duet and team. Her prodigy's have earned Pan American Games gold in duet (1987, 1991) and in team entries in 1983, 1987, 1991 and 1995.
Emery's athletes introduced a technical expertise to the sport that shed the old-school description of synchronized swimming as "water ballet" and led to the acceptance of the sport as a physically demanding yet artistically expressive athletic event. She implemented scientifically designed training methods and diverse, cross-training regimens to take her teams to a level only pursued by others. Her Olympic and international champions are testimony to this: Karen and Sarah Josephson, Kristen Babb-Sprague, Mary Visniski, Tracy Long, Michelle Svitenko Africano, Tammy Cleland, Heather Pease, Jill Savery, Nathalie Schneyder and Margot Thien. As the assistant head coach of the 2000 U.S. Olympic team, four of Emery's prodigies are among the team's athletes.
In 1998, Gail took over the reigns of Stanford University's synchronized swimming program and quickly won the NCAA National Championship, only the second time in 22 years for the school. Whether it is at the collegiate, national, World Championship or Olympic levels or at the Rome Open, American Cup, Pan Pacific Championships, Japan Cup, Moscow Invitational or Swiss Open, the legacy left by Gail Emery and the athletes that she coached will be long remembered and respected.