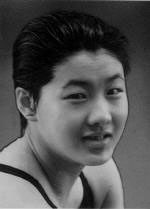 Fu Mingxia (CHN)
Honor Diver (2005)
The information on this page was written the year of their induction.
FOR THE RECORD: 1992 OLYMPIC GAMES: gold (10m platform); 1996 OLYMPIC GAMES: gold (10m platform, 3m springboard); 2000 OLYMPIC GAMES: gold (3m springboard), silver (3m springboard synchro); 1991 WORLD CHAMPIONSHIPS: gold (10m platform); 1994 WORLD CHAMPIONSHIPS: gold (10m platform); 1993 FINA WORLD DIVING CUP: bronze (3m springboard); 1995 FINA WORLD DIVING CUP: gold (3m springboard), silver (10m platform); 2000 FINA WORLD DIVING CUP: silver (3m springboard); 1990 ASIAN GAMES: bronze (10m platform); 1994 ASIAN GAMES: silver (3m springboard); 1999 WORLD UNIVERSITY GAMES: gold (10m platform, 3m springboard); Swimming World's Best Female Platform Diver: 1990, 1991.
Fu Mingxia completed a remarkable diving career that earned her the title "Queen of Diving." Over a period of three Olympic Games (1992, 1996, 2000) she earned four gold and one silver medal, more than any other diver in history.
Born in Wuhan of Hubei Province in central China on August 16, 1978, into a working-class family with an elder sister, Mingxia learned to swim at a nearby river under the instruction of her father Fu Yijun. At age five, she started gymnastics at the Winhan Spare-Time Sports School with her sister, but switched two years later to diving and was selected as a member to the Hubei Provencial diving team in 1987. She competed at the Junior National Games in 1989, placing fifth on the platform. The next year she won the event in the Group B event at the meet. She was then selected for intensified training by the national team and became a part of Hall of Fame Coach Xu Yiming's national training program in Beijing in 1990. Homesick, she cried for the first few months, but during nine-hour-a-day practices, she kept very busy and was trained to empty herself of emotion, particularly fear. She saw her parents once that first year and within one year of intensified training and competing in six international competitions, she won the gold medal at the 1991 Perth World Championships in the 10m platform, becoming the youngest ever diving world champion at age 12.
Of her first time diving off the 10m platform, Mingxia remembers, "It was so high above the water! But we had a rule: a diver must leave the platform from the front, that means you have to dive. A diver can never descend by the stairs at the rear of the platform. So I jumped. I was scared to death. My heart was about to come out of my body. But I did it." She carried her winning streak of 1991 into 1992 as she took the gold medal in the women's 10m platform at the 1992 Barcelona Olympics. At 13 years 353 days, she became the youngest female platform Olympic diving champion and the second youngest female Olympic diving champion of all time behind 1936 3m springboard gold medalist Marjorie Gestring at 13 years 267 days, a difference of only 186 days.
"I think a female diver can easily reach the peak of her career before 15, she said. But after that, you have to endure many growing pains. For example, to retain the elegance of the sport, one has to keep a slim figure. But your body is developing. You need to eat to provide your body with enough nutrients and stuff. I was really miserable. I felt hungry shortly after I had a meal. I couldn't explain why I felt hungry so quickly, but that was the case then."
Between 1992 and her next Olympic competition in 1996, Mingxia's five feet tall and 90 pound body grew by two inches, but her skill and focus were as sharp as ever. She won the platform event at the 1994 Rome World Championships and was second in the springboard at the 1994 Hiroshima Asian Games. Then came the Atlanta Olympics in 1996 and so did another two gold medals in the women's springboard and platform, Fu becoming only the fourth women to win both events at the same Olympic Games – Vicki Draves (USA) / 1948, Pat McCormick (USA) / 1952, 1956, and Ingrid Kraemer (GER) / 1960. She also became the 5th female diver to win successive gold medals in the same event, the other four being Dorothy Poynton (USA) 1932, 1936 (platform), Pat McCormick (USA) 1952, 1956 (platform, springboard), Ingrid Kramer (GER) 1960, 1964 (springboard), Gao Min (CHN) 1988, 1992 (springboard).
Following Atlanta and after seven years of 40 hour a week training sessions, the physically and mentally exhausted Fu announced her retirement, enrolling at China's top Tsinghua University. She was happily enjoying a relaxed university life, pressure-free from diving. But she soon realized she missed diving and started back competing for fun with no intention to continue internationally again. However, as her skills toned, she started thinking of Sydney in 2000. She worked hard and finished second in the Olympic Trials, thereby winning a place on the Olympic Team. After only six months training with 3m springboard synchro partner Guo Jingjing, the duo won the silver medal in the event behind the Russian team of Vera Ilyina and Oulia Pakhalina.
In the 3m springboard event, Mingxia defeated her synchro partner to win her fourth gold medal and thus the first female diver to win gold in three consecutive Olympic Games. With her silver medal in synchro diving, she had won an unprecedented five medals in Olympic competition. Says Mingxia, "It takes a diver only 1.7 seconds to go from the 10m platform to the water surface down below. So I call it a one-second art. It requires you to fully display the beauty of the sport in only a second. It's very demanding, but I love the challenge."
On July 15, 2002, Fu Mingxia married the then Hong Kong Financial Secretary Antony Leung Kamchung and gave birth to a baby girl in the Queen Mary Hospital in Hong Kong earlier this year. They now live in Hong Kong.
This brilliant diver who always seems to have a bright smile on her face, was selected as one of China's "Ten Outstanding Young People", out of 1.5 billion people.