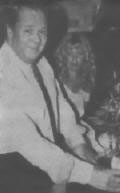 Fritz Gunst (GER)
Honor Water Polo (1990)
The information on this page was written the year of their induction.
FOR THE RECORD: OLYMPIC GAMES: 1928 gold; 1932 silver; 1936 silver; Team Captain (1928, 1932, 1936); GERMAN CHAMPIONSHIPS: Team Captain (1927, 1936, 1937, 1938); International player for Germany in 122 games.
Fritz Gunst captained the greatest German water polo team to three Olympics (1928, 1932, 1936). They won the Olympic gold medal in Paris in 1928 and came back to win silver medals in Los Angeles in 1932 and Berlin in 1936. In both years they lost close games in the finals. His club, Wasserfreunde 98, from Hanover won the German Championships in 1927, 1936, 1937 and 1938. Gunst represented Germany in 122 international games, retiring to the Stuebchen Beer Hall which he managed in Hanover. He attended the 1988 Seoul Olympic Games as the oldest living German Olympian.