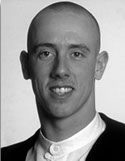 Fred Deburghgraeve (BEL)
Honor Swimmer (2008)
The information on this page was written the year of their induction.
FOR THE RECORD: 1996 OLYMPIC GAMES: gold (100m breaststroke); THREE WORLD RECORDS: 1-100m breaststroke (lc), 2- 100m breaststroke (sc); 1994 WORLD CHAMPIONSHIPS: bronze (100m breaststroke); 1998 WORLD CHAMPIONSHIPS: gold (100m breaststroke); 1995 EUROPEAN CHAMPIONSHIPS: gold (100m breaststroke), bronze (200m breaststroke);
At the tender age of eight, this youngster started swimming at the Roeselare swim club. He was coached by his father for the first eight years of his life. Once he reached a certain level, his father thought he needed a more experienced coach, where they found a Dutchman by the name of Ronald Gaastra. But even when he was competing at the elite levels, he did not have ideal training conditions. Gaastra lived 100 kilometers from Roeselare and would communicate work outs by phone and would visit only once a week, so his father remained his main support and motivator. Much of the time, he trained by himself. He was the oldest in the club and had no real peers, especially at his elite level. This makes his accomplishments that much more impressive!
Known in Belgium as "Fred Rocket", Fred Deburghgraeve broke onto the international scene at the 1990 Junior European Championships where he won two bronze medals in the 100 and 200 meter breaststroke events. He continued on, competing at the 1994 World Championships, winning bronze in the 100 meter breaststroke. He won gold in the 100 and bronze in the 200 meter breaststroke at the 1995 European Championships.
But, it was not until the 1996 Atlanta Olympic Games that Deburghgraeve really made his mark. He swam a 1:00.60 in the 100 meter breaststroke, breaking the world record in the morning, going on
to win the gold medal in the final that evening. This feat made him the first person in history to win a gold medal in swimming for his native homeland, Belgium.
In addition to his long course world record, Fred also set two short course world records. He took the Phillips Petroleum Award home to Belgium after breaking his own world record in the 100 meter breaststroke with a 58.79 at the US Open at College Station in late 1998. Fred Deburghgraeve ended his career on a high note by taking home gold in the 100 meter breaststroke at the 1998 World Championships in Perth, Australia. Fred Deburghgraeve (BEL) 2008 Honor Swimmer.