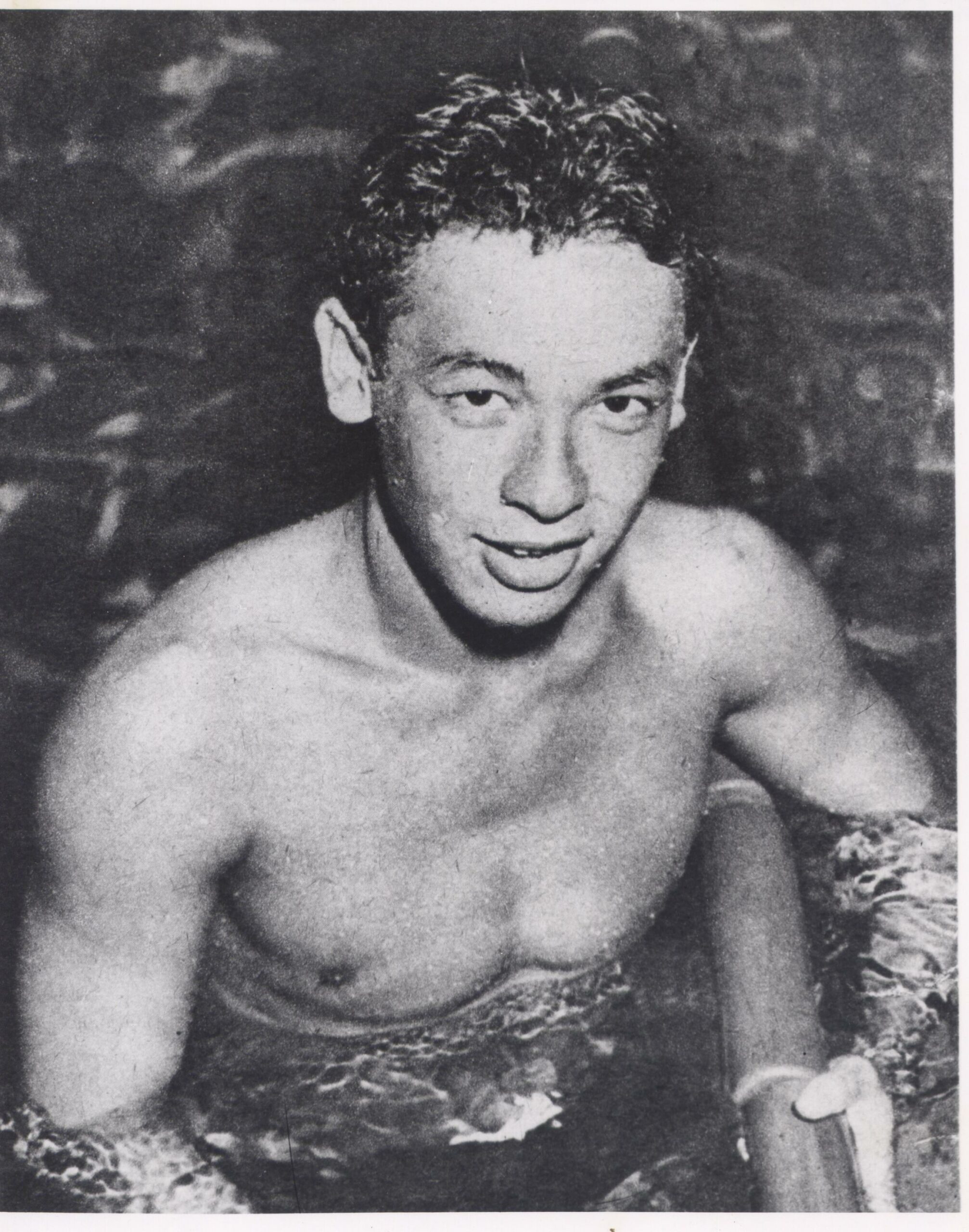 Ford Konno (USA)
Honor Swimmer (1972)
The information on this page was written the year of their induction.
FOR THE RECORD: OLYMPIC GAMES: 1952 gold (1500 freestyle; 800m freestyle relay), silver (400m freestyle); 1956 silver (800m freestyle relay); NATIONAL AAU Titles: 18; NCAA Titles: 6; BIG TEN Titles: 10; World and American Records at 7 distances (from 200m to 1500m).
Ford Konno is only 5'6 1/2″ tall, so he has always preferred the top step of the victory stand — a position he grew accustomed to through 18 National AAU titles and two Olympic gold medals.
Konno's early career was a game of catch-up with several of the World's all-time great middle distance freestylers.
In 1949, the great Japanese world record holders Furuhashi and Hashizume stopped in Honolulu on their way home from Los Angeles, and Konno got a good rear view — ditto in 1950 when he placed second behind the great Australian John Marshall in both the mile and the 800 meter freestyle at the Seattle U.S. Nationals.
Based on this second place finish, Konno was picked to be on the first post-war (WWII) U.S. team to swim in Japan. As a member of this U.S. Team, he beat all three of his earlier conquerors at 1500 meter and 800 yard freestyle races in Tokyo and Osaka.
A year later, while still a high school student in Honolulu, he swam his first world record in the 440 yd. freestyle. In the fall of 1951, he enrolled at Ohio State with coach Mike Peppe and a distinguished college career of 6 NCAA and 10 Big Ten titles.
He returned to train under his long-time Hawaiian coach Yoshito Sagawa for the 1952 Olympic Trials at Flushing Meadows, and barely made the men's team due to a serious sinus infection. The infection was gone by the time he got to Helsinki where he again beat his famed Australian and Japanese rivals to set world and Olympic records in the 1500 and in anchoring the USA's gold medal 800 meter freestyle relay. He placed 2nd to the great Frenchman Jean Boiteaux in the 400 meter freestyle.
Ford Konno's silver medal in the 1956 Olympics (800 freestyle relay) gave him a total of 2 gold and 2 silver. During his career, he held World and American records at 7 distances from 200 to 1500 meters.
After graduating from Ohio State, Ford Konno became a high school teacher and swim coach on the island of Kauai, Hawaii. He married former swimmer Evelyn Kawamoto, his 1952 Olympic teammate. The Konnos now have 2 daughters to welcome "father" home from the office where he is a Division Manager for Investors Equity Life Insurance Company.