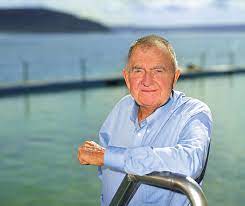 Forbes Carlie (AUS)
Honor Coach (1976)
The information on this page was written the year of their induction.
FOR THE RECORD: OLYMPIC GAMES: Australia's first modern pentathlon Olympic competitor (1952) and youngest Olympic coach (1948); Olympic Coach 1956 (Australia), 1964 (Holland); WORLD CHAMPIONSHIPS: Coach 1973 (Australia); 9 World Record holders; Numerous Australian champions and record holders; Organized the Australian Swimming Coaches Association.
Forbes Carlile, a graduate physiologist and lecturer at the University of Sydney, was and is a pioneer in scientific training — interval workouts (1940s), pace clock (1946), heart rate tests for assessing effort (1956), training under stress and T-Wave study. His book, "Forbes Carlile on Swimming" (1963), was the first modern book on competitive swimming and it is still significant for it's consideration of "tapering" and it's historical development of the crawl stroke. Clinics have taken him, with his Olympic coaching wife and partner, Ursula, to Mainland China, Japan, USSR, Ethiopia, Puerto Rico, Holland, North and South America. The Carlile swimming organization, operating on the north shore of Sydney, has 60 full and part-time coaches teaching 1,400 lessons per week with classes of 8 levels — from babies to Olympic swimmers. Carlile has been swim color man for ABC (Australian Broadcasting Commission) for 31 years at Olympics, Commonwealth Games and Nationals, and has produced 5 feature movies. Carlile's concepts have included even-pace (negative split), starting young, "better a has-been than a never-was", "speed through endurance", and the arm dominated high tempo two-beat (kick) crawl.