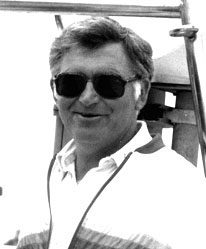 Flip Darr (USA)
Honor Coach (2006)
The information on this page was written the year of their induction.
FOR THE RECORD: 1975 WORLD CHAMPIONSHIPS: Women's Head Coach; 1991 WORLD CHAMPIONSHIPS: Open Water Head Coach; 1987 PAN AMERICAN GAMES: Head Team Manager; COACH OF SWIMMERS WINNING EIGHT OLYMPIC MEDALS, THREE WORLD CHAMPIONSHIP MEDALS, TWO PAN AMERICAN GAMES Medals; COACH OF TWO SWIMMERS SETTING 11 WORLD RECORDS; Swimmers include: Gary Hall, Shirley Babashoff, Dan Jorgenson, John Mykkanen, Steve Furniss; Placed swimmers on teams competing at: 1968, 1972, 1976, 1984 OLYMPIC GAMES, 1973, 1991 WORLD CHAMPIONSHIPS, 1987, 1991 PAN PACIFIC CHAMPIONSHIPS, 1973, 1985 WORLD UNIVERSITY GAMES; Coach of 11 U.S. National Teams including: 1974 USA/DDR Duel Meet and Meets with Japan, Argentina; Coach of Swimmers winning 27 U.S. NATIONAL CHAMPIONSHIPS and ONE NATIONAL CHAMPIONSHIP TEAM TITLE; Noted as First Coach to bring the use of hand paddles into mainstream training.
Every swimmer needs a coach who is unique to him or her, a coach who understands the swimmer's personality, is able to instill motivational qualities of hard work and self-respect and has the ability to teach stroke technique and race strategy. That's the relationship Flip Darr had with his swimmers.
As a national level coach for over 25 years working with the Californian teams of Phillips 66, Huntington Beach Aquatics and Irvine Novas and with Hall of Fame coach Don Gambril, Flip played a significant part in developing Gary Hall, Sr., Shirley Babashoff, Steve Furniss, Valerie Lee, Mike O'Brien, Dan Jorgenson and John Mykkannen. Their efforts led to swimmers earning 16 world records, eight Olympic medals, nine World Championship medals, three Pan American Games medals and 31 U.S. Swimming national titles.
He placed swimmers on the Olympic Teams of 1968, 1972, 1976 and 1984. He served as U.S. coach of the 1975 World Championships Women's Team, the 1991 World Championships Open Water Team, the 1974 USA vs. DDR Duel Meet and meets with Japan and Argentina.
Flip is known as one of the first coaches to bring the use of hand paddles into mainstream swimming.