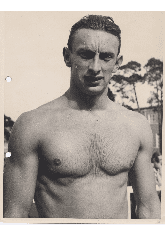 Ferenc Csik (HUN)
Honor Swimmer (1983)
The information on this page was written the year of their induction.
FOR THE RECORD: OLYMPIC GAMES: 1936 gold (100m freestyle), bronze (800m freestyle relay); WORLD RECORDS: 3 (relays); EUROPEAN CHAMPIONSHIPS: 4 (100m freestyle; freestyle relays); EUROPEAN RECORDS: 6 (100m freestyle, 400m, 800m freestyle relays); HUNGARIAN CHAMPIONSHIPS: 17 (100m, 200m freestyle; 100m, 200m breaststroke; 300m individual medley; 400m, 800m freestyle relays); HUNGARIAN RECORDS: 13 (100m, 200m freestyle, 100m, 200m breaststroke; relays).
Dr. Ferenc Csik came from an outside lane to win the 1936 Berlin Olympics for Hungary, defeating many-time World Record holder Peter Fick (USA) and the three Japanese all favored to beat him. 13 Hungarian Championships began during his second year in medical school in Budapest. Almost as a reward for finishing another year of medical school, he began winning more and more prestigious Championships. After his third year, it was the European crown at Magdeburg 1934. His fourth was the University World Games in Budapest and his fifth, the Olympic Games in Berlin. He received his M.D. degree his sixth year, November 20, 1937, and stayed on at the University as a demonstration clinician and continued his swimming. He lived with his family on "Swimming Pool Street". Csik, whose father was slain in World War I, was himself killed in an air raid while serving as an Army doctor in World War II. He is buried in the "Csik Ference Esplanade", a memorial sports ground near the floating swimming pool where he learned to swim in his home town of Kesztheley. His coach throughout most of his career was Jozsef Vertesy, an Olympic water polo gold medalist in 1932 at Los Angeles.